Dino Buzzati's Poema a fumetti: by Dino Buzzati: The Hell on the outskirts of Milan
Andrea Cannas

University of Cagliari
Keywords:
Buzzati, Poem Strip, Graphic novel, Orpheus, Inferno
Abstract
Poema a fumetti  is a masterpiece born from the combination of textual and visual writing. Dino Buzzati in this work revisits and modernises the story of Orpheus and Eurydice.
Downloads
Download data is not yet available.
References
Abbrugiati, Perle, "De Leopardi à Buzzati: le jardin des délices de la douleur", Italies, 8 (2004): 275-97.
Badas, Mauro, Figure apocalittiche dell'altrove buzzatiano, Medea, IV.1 (2018).
Barbieri, Daniele, "I fumetti e il Poema. Un'opera quasi in musica", in Giannetto 2005: 101-17.
Blanchot, Maurice, L'Entretien infini, Paris, Gallimard, 1969.  
Blumenberg, Hans, Arbeit am Mythos, Frankfurt am Main, Suhrkamp Verlag, 1979.
Buzzati, Dino, "Prefazione" a Walt Disney, Vita e dollari di Paperon de' Paperoni, con introduzione di Mario Gentilini, Milano, Mondadori, 1968.
Id., Poema a fumetti, Ed. Lorenzo Viganò, Milano, Mondadori 2017.
Calvino, Italo, Tutte le Cosmicomiche, Milano, Mondadori, 1997.
Cannas, Andrea, Lo sguardo di Orfeo. Studio sulle varianti del mito, Roma, Bulzoni, 2004.
Caspar, Marie-Hélène, Fantastique et mythe personnel dans l'oeuvre de Dino Buzzati, La Garenne-Colombes, Éditions Européennes Erasme, 1990.
Coglitore, Roberta, Storie dipinte. Gli ex voto di Dino Buzzati, Palermo, Edizioni di Passaggio, 2012.
Del Puppo, Alessandro, "Buzzati 1969: il Poema e la pittura", in Ferrari 2002: 19-28.
Id., "Il laboratorio di Poema a fumetti: tra metafisica e surrealismo", in Giannetto 2005: 85-100.
Eco, Umberto, Apocalittici e integrati, Milano, Bompiani, 1964.
Eisner, Will, Fumetto e arte sequenziale, Torino, Vittorio Pavese, 1997.
Ferrari, Mariateresa (ed.), Buzzati 1969 – Il laboratorio di Poema a fumetti, Milano, Mazzotta, 2002.
Ead., Buzzati racconta. Storie disegnate e dipinte, Milano, Electa, 2006.
Frezza, Gino, "Evoluzione e attualità del graphic novel", Id. Le carte del fumetto: strategie e ritratti di un medium generazionale, Napoli, Liguori, 2008: 136-45.
Giannetto, Nella, "Ma cos'è «Poema a fumetti»?", in Ferrari 2002: 9-12.
Giannetto, Nella (ed.), "Poema a fumetti" di Dino Buzzati nella cultura degli anni '60 tra fumetto, fotografia e arti visive, Atti del Convegno Internazionale. Feltre e Belluno, 12-14 settembre 2002, Milano, Mondadori, 2005.
Groensteen, Thierry, Système de la bande dessinée, Paris, PUF, 1999.
Ioli, Giovanna, Dino Buzzati, Milano, Mursia, 1988.
La Porta, Filippo, La nuova narrativa italiana. Travestimenti e stili di fine secolo, Torino, Bollati Boringhieri, 1999.
Laganà Gion, Antonella, Dino Buzzati: un autore da rileggere, Venezia-Belluno, Corbo e Fiore, 1983.
Lazzarin Stefano, "«Le immense cose che si erano sognate...». Costanti evocative e presenze leopardiane nella narrativa breve di Buzzati", Italianistica, 1 (2005): 33-47.
Lotman, Jurij Michajlovič, La semiosfera. L'asimmetria e il dialogo nelle strutture pensanti, Venezia, Marsilio, 1985.
Maggiore, Rosanna, "Le operette lunari di Dino Buzzati", Studi buzzatiani, 18 (2013): 43-62.
McCloud, Scott, Understanding Comics. The Invisible Art, New York, Kitchen Sink Press, 1993.
Meletinskij, Eleazar Moiseevič, Il mito. Poetica folclore ripresa novecentesca, Roma, Editori riuniti, 1993.
Mellarini, Bruno, "'Il suo amore si chiama Eura': Buzzati e le figure del mito", Studi buzzatiani, 11 (2006): 87-106.
Messora, Noemi, "Il linguaggio del mito in Poema a fumetti", Cahiers Dino Buzzati, 9 (1994): 167-212.
Panafieu, Yves, Dino Buzzati: un autoritratto. Dialoghi con Yves Panafieu, Milano, Mondadori, 1973.
Pavese, Cesare, Dialoghi con Leucò, Torino, Einaudi, 1947.
Roda, Roberto, "Nel labirinto di «Poema a fumetti»: un gioco interattivo ante-litteram", in Ferrari 2002: 29-36.
Rushdie, Salman, The Ground Beneath Her Feet, London, Vintage, 2000.
Sandrini, Giuseppe, "Presenza di Leopardi nel primo Buzzati", Studi buzzatiani, 6 (2001): 7-19.
Savinio, Alberto, Orfeo Vedovo. Opera in un atto. Parole e musica di Alberto Savinio, Roma, Anfiparnaso, 1950.
Scarsella, Alessandro, "Postille di metodologia a margine di paraletteratura, cinema, fumetto e graphic novel", Autori, lettori e mercato nella modernità letteraria, Ed. Ilaria Crotti - Enza Del Tedesco - Ricciarda Ricorda - Alberto Zava, Vol. 2, Pisa, Edizioni ETS, 2011: 607-17.
Sebastiani, Alberto, "Quale sintassi per i graphic novel? un fumetto verso il romanzo?", Sintassi storica e sincronica dell'italiano: subordinazione, coordinazione, giustapposizione, atti del X Congresso della Società internazionale di linguistica e filologia italiana, Basilea, 30 giugno-3 luglio 2008, Ed. Angela Ferrari, Firenze, Franco Cesati Editore, 2009: 1429-45.
Spiegelman, Art, Comix, Essays, Graphics and Scraps, New York, Raw Books and Graphics, 1999.
Viganò, Lorenzo, "La discesa nell'Aldilà: l'ultimo viaggio di Dino Buzzati", Poema a fumetti cit., 2017.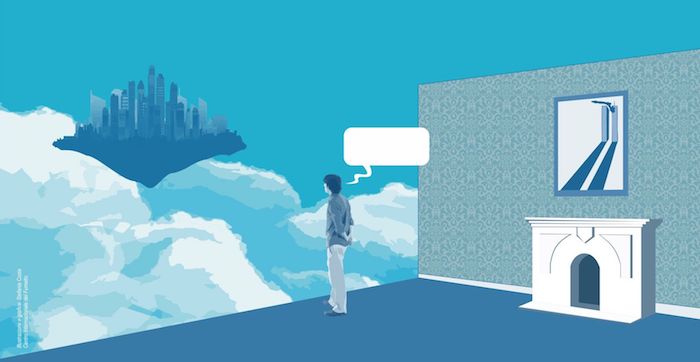 How to Cite
Cannas, A. (2018). Dino Buzzati's <i>Poema a fumetti</i&gt;: by Dino Buzzati: The Hell on the outskirts of Milan. Between, 8(15). https://doi.org/10.13125/2039-6597/3334
Copyright Notice

You are free to copy, distribute and transmit the work, and to adapt the work. You must attribute the work in the manner specified by the author or licensor (but not in any way that suggests that they endorse you or your use of the work).