Walter Siti: A Different Commitment
Giacomo Tinelli

Università Alma mater studiorum - Bologna
Keywords:
Walter Siti, Pier Paolo Pasolini, Commitment, Politics, Ideology, Imaginary, Althusser, Lacan
Abstract
The article aims at examining many different ways of commitment in the opera of Walter Siti. We'll try to individuate the unusual dynamics of Walter Siti's commitment, starting from a particular conception of "realism" and from a skeptical opinion among classical politics practice.
Downloads
Download data is not yet available.
References
Althusser, Louis, Sulla psicoanalisi, Milano, Raffaello Cortina 1994
Althusser, Louis, Sull'ideologia, Bari, Dedalo libri, 1976
Barthes, Roland, Frammenti di un discorso amoroso, Torino , Einaudi, 2014
Benedetti, Carla, "Le ceneri di Pasolini", in L'unità, 29 aprile 2003
Bertoni, Federico, Realismo e letteratura, una storia possibile, Torino, Einaudi 2007
Bottiroli, Giovanni, "Imitando Charlot, dalla stilistica alla teoria dello stile", in Segnocinema, n. 162, marzo – aprile, Vicenza, 2010: 2-7
Eco, Umberto, Lector in fabula. La cooperazione interpretativa nei testi narrativi, Milano, Bompiani 1998
Freud, Sigmund, "L'umorismo", in Opere, a c. di C. L. Musatti, Torino, Boringhieri, 1985, vol. 10: 499-508
Gadda, Carlo Emilio, La cognizione del dolore, Milano, Garzanti 1988
Giglioli, Daniele, Senza trauma, Macerata, Quodlibet 2011
Giglioli, Daniele, Critica della vittima, Roma, Nottetempo, 2013
Giglioli, Daniele, Stato di minorità, Roma-Bari, Laterza 2015
Marcuse, Herbert, L'uomo a una dimensione. L'ideologia della società industriale avanzata, Torino, Einaudi 1967
Lacan, Jacques, Il seminario, libro III. Le psicosi 1955-56, Torino, Einaudi 2010
Lacan, Jacques, "Lo stadio dello specchio come formatore della funzione dell'io", in Id., Scritti, Torino, Einaudi 1974: 85-94
Pasolini, Pier Paolo, L'usignolo della chiesa cattolica, Milano, Garzanti 2004
Recalcati,
Massimo, L'uomo senza inconscio. Figure della nuova clinica psicoanalitica, Milano, Raffaello Cortina 2010
Scurati, Antonio, La letteratura dell'inesperienza. Scrivere romanzi al tempo della televisione, Milano, Bompiani 2006
Siti, Walter, Il contagio, Milano, Mondadori 2008
Siti,Walter, Il dio impossibile, Milano, Rizzoli 2015.
Siti, Walter, Il realismo è l'impossibile, Nottetempo, Roma 2013
Siti, Walter, Resistere non serve a niente, Milano, Rizzoli 2012
Zizek, Slavoj, L'epidemia dell'immaginario, Roma, Meltemi 2004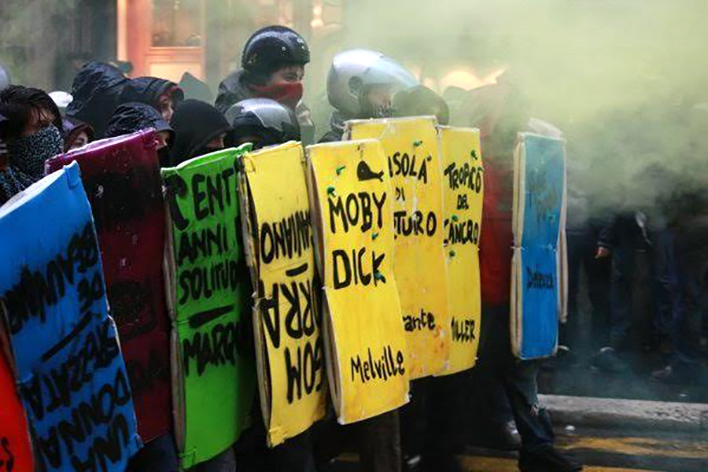 How to Cite
Tinelli, G. (2016). Walter Siti: A Different Commitment. Between, 5(10). https://doi.org/10.13125/2039-6597/2051
Section
Logics of Power, Practices of Resistance
Copyright Notice

You are free to copy, distribute and transmit the work, and to adapt the work. You must attribute the work in the manner specified by the author or licensor (but not in any way that suggests that they endorse you or your use of the work).