On the role of writing in the Italian neo-historical novel
Claudia Cao

University of Cagliari
Keywords:
contemporary historical novel, Sebastiano Vassalli, Dacia Maraini, Maria Rosa Cutrufelli
Abstract
 Although the neo-historical Italian novel belongs to a climate of disengagement and the collapse of ideologies, the declared attribution of a civil role to writing is still present in the meta-fictional reflection of most of these works. This essay explores the theme of the gap and the repression, – a particularly fruitful issue in the discourse on the relationship between history and writing and widely present in the theoretical debate on historiography – to illustrate how these novels, albeit in an often indirect manner, are aimed at a critical education of the reader, themselves serving to break the silences of history.
Downloads
Download data is not yet available.
References
Antonello, Pier Paolo – Mussgnug, Florian (eds.), Postmodern Impegno. Ethics and Commitment in Contemporary Italian Culture, Bern, Peter Lang, 2009.
Ascari, Maurizio, "Sepolto vivo, sepolta viva", Dizionario dei temi letterari, Eds. Ceserani, Remo – Domenichelli, Mario – Fasano, Pino, Torino, Utet, 2007: 2236-2238, III.
Barthes, Roland, Le bruissment de la langue (1984), trad. it. Il brusio della lingua, Torino, Eianudi, 1988.
Benvenuti, Giuliana, "A proposito del dibattito sulla narrazione della storia", Intersezioni, XXIX. 1 (aprile 2009): 131-148.
Benvenuti, Giuliana, Il romanzo neostorico italiano. Storia, memoria, narrazione, Roma, Carocci, 2012.
Benjamin, Walter, Sul concetto di storia, Eds. Gianfranco Bonola – Michele Ranchetti, Torino, Einaudi, 1997.
Benjamin, Walter, Schriften [1955], Angelus Novus. Saggi e frammenti, Torino, Einaudi, 1962.
Brooks, Peter, Reading for the Plot. Design and Intention in Narrative [1984], trad. it. Trame. Intenzionalità e progetto nel discorso narrativo, Torino, Einaudi, 1995.
Brooks, Peter, Storytelling and Psychoanalysis, Cambridge (MA), Blackwell, 1994.
Capuzzo, Paolo (ed.), "Storie freudiane", Contemporanea, XV.2 (aprile-giugno 2012): 337-372.
Ceserani, Remo, "Cinque domande sul ritorno al passato", Spinazzola 1991: 25-36.
Chemotti, Saveria, "Marianna Ucrìa: parola senza voce", Donne in filosofia. Percorsi della riflessione femminile contemporanea, Eds. Bruna Giacomini – Saveria Chemotti, Padova, Il Poligrafo, 2005: 283-304.
Cutrufelli, Maria Rosa, La briganta, Palermo, La Luna, 1990.
Dalmas, Davide, "Postmoderno, nuova epica, ritorno alla realtà. Questioni e problemi del romanzo italiano contemporaneo", CoSMo. Comparative Studies in Modernism, I (2012): 121-127.
De Donato, Gigliola, Gli archivi del silenzio, Fasano, Schena, 1995.
Della Coletta, Cristina, "L'altra metà del Seicento: da I promessi sposi di Manzoni a La chimera di Vassalli", Italica, LXXVIII.3 (Autumn 1996): 348-368.
Di Giulio, "Travesties of Risorgimento in Maria Rosa Cutrufelli's La briganta", Risorgimento In Modern Italian Culture: Revisiting The Nineteenth-Century Past In History, Narrative, And Cinema, Ed.Norma Bouchard, Madison, Fairleigh Dickinson Press, 2005: 133-145.
Domenichelli, Mario, "Scrittura", Dizionario dei temi letterari, Eds. Remo Ceserani – Mario Domenichelli – Pino Fasano, Torino, Utet, 2007: 2204-2208, III.
Domenichelli, Mario, Lo scriba e l'oblio. Letteratura e storia: teoria e critica delle rappresentazioni nell'epoca borghese, Pisa, ETS, 2011.
Eco, Umberto, Il nome della rosa [1980], Milano, Bompiani, 1988.
Forenza, Eleonora, "Dal foglietto al romanzo : la scrittura come costruzione del sé ne La lunga vita di Marianna Ucrìa", Forme del narrare: atti del VII Congresso nazionale dell'ADI, Macerata, 24-27 settembre 2003, Firenze, Polistampa, 2004.
Foucault, Michel, Les mots et les choses [1966], trad. it. Le parole e le cose, Milano, Bur, 2006.
Foucault, Michel, Archéologie du savoir [1969], trad. it Archeologia del sapere, Milano, Rizzoli, 1971.
Ganeri, Margherita, Il romanzo storico in Italia. Il dibattito critico dalle origini al postmoderno, Lecce, Manni, 1999.
Iannotta, Daniella, "Prefazione all'edizione italiana. Memoria del tempo, tempo della memoria", Ricoeur 2003: XI-XXIV.
Lazzaro-Weis, Carol, From Margins to Mainstream: Feminism and Fictional Modes in Italian Women's Writing, 1968-1990, Philadelphia, University of Pennsylvania Press, 1993.
Lyotard, Jean-François, La condition postmoderne [1979], trad. it. La condizione postmoderna. Rapporto sul sapere, Milano, Feltrinelli, 1994.
Maraini, Dacia, La lunga vita di Marianna Ucrìa [1990], Milano, Rizzoli, 1991.
Marotti, Maria Ornella – Brooke, Gabriella (eds.), Gendering Italian Fiction: Feminist Revisions of Italian History, Cranbury, Associates University Presses, 1999.
McHale, Brian, Postmodern Fiction, London – New York, Routledge, 1987.
Michelacci, Lara, "Ricostruire l'identità, reinventare il passato: La briganta di Maria Rosa Cutrufelli", Poetiche XIV.36 (2012) 217-234.
Moretti, Mauro (ed.), "Storia narrativa, storia narrazione. Tavola rotonda con Hayden White", Ricerche di storia politica, 1 (2009): 69-93.
Orlando, Francesco, Per una teoria freudiana della letteratura, Torino, Einaudi, 1973.
Orlando, Francesco, Due letture freudiane. Fedra e il Misantropo [1971], Torino, Einaudi, 1990.
Parisi, Luciano, "Alessandro Manzoni's "I promessi sposi": A Chaste Novel and an Erotic Palimpsest", The Modern Language Review, CIII.2 (Apr., 2008): 424-437.
Piga, Emanuela, "Dalla storia alla letteratura: il ritorno del sommerso nel campo di battaglia del testo letterario", Letteratura e storia, storia e letteratura, Eds. Federico Bertoni – Donata Meneghelli, Transpostcross, IV.1 (2014): http://www.transpostcross.it/index.php?option=com_content&view=article&id=106:dalla-storia-alla-letteratura&catid=11:saggi&Itemid=10, online.
Ricoeur, Paul, La mémoire, l'histoire, l'oubli [2000], trad. it. La memoria, la storia, l'oblio, Ed. Daniella Iannotta, Milano, Cortina, 2003.
Rosa, Giovanna , "Inchiesta sui romanzi storici, neostorici, pseudostorici" Spinazzola 1991: 9-23.
Santagostino, Giuseppina, "La lunga vita di Marianna Ucria: tessere la memoria sotto lo sguardo delle chimere", Italica, LXXVIII. 3 (Autumn 1996): 410-428.
Scarano, Emanuela, "Forme della storia e forme della finzione", Moderna, VIII: 1-2 (2006): 35-50.
Serkowska, Hanna, "Sebastiano Vassalli: da abitante del vento a seguace del nulla", Cahiers d'études italiennes, IX (2009): 81-90, http://cei.revues.org/192?lang=it, online (ultimo accesso 10/05/2015)
Spinazzola, Vittorio, Il romanzo antistorico, Roma, Editori Riuniti, 1990.
Spinazzola, Vittorio (ed.), Tirature '91, Einaudi, Torino, 1991.
Vassalli, Sebastiano, La chimera, Torino, Einaudi, 1990.
Waters, Sandra, Narrating the Italian Historical Novel, https://rucore.libraries.rutgers.edu/rutgers-lib/25640/, online (ultimo accesso: 10/05/ 2015).
White, Hayden, Metahistory: The Historical Imagination in the Nineteenth-Century Europe, Baltimore, The John Hopkins University Press, 1973.
White, Hayden, Forme di storia: dalla realtà alla narrazione, Ed. Edoardo Tortarolo, Roma, Carocci, 2006.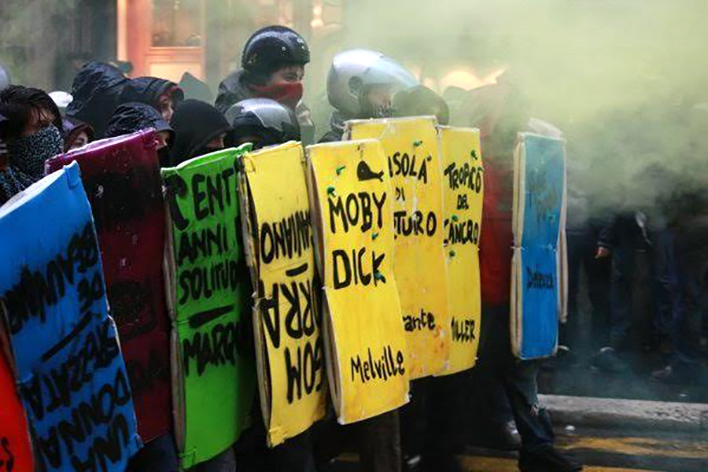 How to Cite
Cao, C. (2015). On the role of writing in the Italian neo-historical novel. Between, 5(10). https://doi.org/10.13125/2039-6597/2003
Section
Narratives and Imaginaries in Politics and History
Copyright Notice

You are free to copy, distribute and transmit the work, and to adapt the work. You must attribute the work in the manner specified by the author or licensor (but not in any way that suggests that they endorse you or your use of the work).