Buzzati's Miracles between writing and painting
Roberta Coglitore

Università di Palermo
Keywords:
Buzzati Dino, Literature/painting, Iconotext, Iconism
Abstract
The analysis of double work I Miracoli di Valmorel by Dino Buzzati, understood as the best outcome of his pictorial and literary production, allowed a reflection on the expressive and combinatory possibilities of visual and verbal texts and on the negotiation of borders between the two media.
Downloads
Download data is not yet available.
References
Brion, Marcel, Art fantastique, Paris, Albin Michel, 1961.
Buzzati, Dino, I miracoli inediti di una santa, Milano, Edizioni del Naviglio, 1970.
Buzzati, Dino, I miracoli di Val Morel, Milano, Garzanti, 1971.
Buzzati, Dino, Per grazia ricevuta, Milano, Grandi Edizioni Italiane, 1983.
Caspar, Marie-Hélène, "Les Miracles de Val Morel: un bestiaire fantastique?", Cahiers Buzzati, 3 (1979): 140-172.
Caspar, Marie-Hélène, "A propos du paratexte buzzatien", Studi Buzzatiani, 5 (2000): 27-46.
Cavadini, Luigi (ed.), Parole e colori, Cernobbio, 2001.
Comar, Nicoletta, Dino Buzzati. Catalogo dell'opera pittorica, Mariano del Friuli, Edizioni della Laguna, 2006 .
Cometa, Michele, La scrittura delle immagini. Letteratura e cultura visuale, Milano, Cortina, 2012.
Cometa, Michele, "Letteratura e arti figurative: un catalogo", Contemporanea, 3 (2005): 15-32.
Crotti, Ilaria, Dino Buzzati, Firenze, La Nuova Italia, 1977.
Dal Mas, Serena - Endrizzi, Serena, "La 'Spiegazione' ai Miracoli di Val Morel come racconto di un viaggio all'altro mondo", Studi Buzzatiani, 3 (1998): 133-142.
Dalla Rosa, Patrizia, "Geografia e onomastica de I Miracoli di Val Morel", Studi Buzzatiani, VIII (2003): 99-110.
Ferrari, Maria Teresa (ed.), Buzzati racconta. Storie disegnate e dipinte, Milano, Electa, 2006.
Giannetto, Nella (ed.), Il Pianeta Buzzati, Milano, Mondadori, 1992.
Giannetto, Nella, "L'icona parlante: intercambiabilità e complementarità di parola e immagine nel Buzzati pittore e disegnatore", I segni incrociati. Letteratura italiana del '900 e arte figurativa, Eds. Ciccuto, Marcello - Zingone, Alexandra, Lucca, Mauro Baroni editore, 1998: 585-602.
Giannetto, Nella, "La parola scritta nei dipinti e nei disegni di Buzzati", in Cavadini 2001: 17-25.
Laganà Gion, Antonella, "Caratteri unitari nell'opera di Buzzati: i rapporti tra letteratura e pittura", Dino Buzzati, Ed. Alvise Fontanella Firenze, L. Olschki, 1982: 291-311.
Laganà Gion, Antonella, "L'incidence des lieux sur la création littéraire et picturale", Cahiers Buzzati, 5 (1982): 269-282.
Laganà Gion, Antonella, Dino Buzzati. Un autore da rileggere, Venezia, Corbo e Fiore, 1983.
Neumann, Birgit, Nünning, Ansgar, "Metanarration and Metafiction", The living Handbook of Narratology, Eds. Hühn, Peter et al., Berlin and New York, Walter de Gruyter, 2009: 204-211.
Mitchell, William J. Thomas, Pictorial turn. Saggi di cultura visuale, Ed. Michele Cometa, Palermo, :duepunti, 2008.
Zugno Tauro, Anna Paola, "L'affabulazione fantastica ne 'I Miracoli di Val Morel'", in Giannetto 1992: 341-374.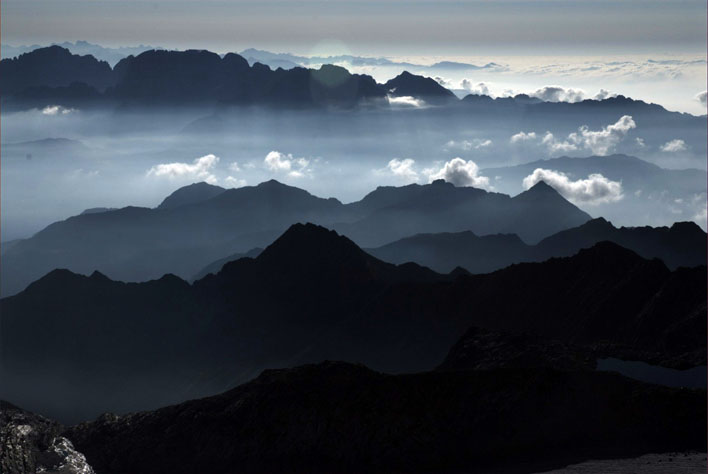 How to Cite
Coglitore, R. (2012). Buzzati's Miracles between writing and painting. Between, 1(1). https://doi.org/10.13125/2039-6597/802
Section
Writing and Visions: Threshold Crossings
Copyright Notice

You are free to copy, distribute and transmit the work, and to adapt the work. You must attribute the work in the manner specified by the author or licensor (but not in any way that suggests that they endorse you or your use of the work).