The Italian Eastern Border: About Lines, Areas and Volumes
Ivan Verč

University of Trieste
Keywords:
Eastern Frontier, Slav, Triest, National Identity,
Abstract
A border encompasses three different meanings: a line to be defended or crossed, an empty area to avoid contact and a space which produces new meanings. Since the unification of Italy its eastern border has mostly been perceived as a line of conflict. Only for a few decades has it been devoid of violence. Its conflictual character is to be sought in a general cultural process which from the 6th to the 8th century saw Slav populations settle on the periphery of what was then the "centre" of the civilised world (Rome and Byzantium). The Slavs demanded recognition on an equal footing with the dominant model of civilisation, which considered the "Slav presence" as inferior. To move beyond a deep-rooted conflict it will be necessary to reconsider the border as a space with positive potential.
Downloads
Download data is not yet available.
References
Bernik, France et al. (eds.), Brižinski spomeniki: znanstvenokritična izdaja, Ljubljana, Slovenska akademija znanosti in umetnosti, Znanstvenoraziskovalni center SAZU, Inštitut za slovensko literaturo in literarne vede, 1993 (Opera. Academia scientiarum et artium Slovenica, Classis II: Philologia et litterae, 39).
Cacciari, Massimo, "Nomi di luogo: confine", Aut aut, 299-300 (2000): 73-79.
Cattaruzza, Marina, L'Italia e il confine orientale, Bologna, Il Mulino, 2008.
Devoto, Giacomo - Oli, Gian Carlo, Dizionario della lingua italiana, Firenze, Le Monnier, 1980.
Dizionario latino, http://66.71.182.1/dizionario-latino.php, online.
Eco, Umberto, Semiotica e filosofia del linguaggio, Torino, Einaudi, 1984.
Iannotta, Daniella, "Prefazione all'edizione italiana. Memoria del tempo. Tempo della memoria", Paul Ricoeur, La memoria, la storia, l'oblio, Milano, Raffaello Cortina Editore, 2003.
Jež, Janko (ed.), Monumenta Frisingensia. Brižinski spomeniki. La prima presentazione in Italia dei monumenti letterari sloveni di Frisinga del X–XI secolo coevi alle prime tracce scritte della lingua italiana, con traduzione dei testi, cenni di storia degli Sloveni e dati sugli Sloveni in Italia, ed. Trieste, Mladika - Firenze, Vallecchi, 1994.
Juri, Franco, "Perché Napolitano non ha ragione",E
http://www.balcanicaucaso.org/ita/aree/Slovenia/Perche-Napolitano-non-ha-ragione, online (ultimo accesso 20.4.2010).
Lotman, Jurij M., "O modelirujuščem značenii ponjatij «konca» i «načala» v chudožestvennych tekstach (tezisy)", Tezisy dokladov vo vtoroj letnej škole po vtoričnym modelirujuščim sistemam, Tartu, 1966: 69-74, trad. it. Lotman, J.M. - Uspenskij, B.A., Tipologia della cultura, Eds. Remo Faccani - Marzio Marzaduri, Milano, Bompiani, 1975.
Lotman, Jurij M., Stat'i po tipologii kul'tury. Materialy k kursu teorii literatury, Tartu, 1970, I, trad. it. "Il problema del segno e del sistema segnico nella tipologia della cultura russa prima del XX secolo", Ricerche semiotiche. Nuove tendenze delle scienze umane nell'Urss, Eds. Jurij M. Lotman - Boris A. Uspenskij, Torino, Einaudi, 1973.
Lotman, Jurij M., "Problema «obučenija kul'ture» kak ee tipologičeskaja charakteristika", Učenye zapiski Tartuskogo gosudarstvennogo universi teta, 284 (1971): 167-176 (Trudy po znakovym sistemam, V), trad. it. Jurij M. Lotman - Boris A. Uspenskij, Tipologia della cultura, Eds. Remo Faccani - Marzio Marzaduri, Milano, Bompiani, 1975.
Lotman, Jurij M., "Bachtin – sein Erbe und aktuelle Probleme der Semiotik", Roman und Gesellschaft. Internationales Michail-Bachtin-Colloquium, Jena, Friedrich Schiller Universität, 1984.
Pahor, Boris, Nekropola, Maribor, Obzorja, Trst, Založništvo tržaškega tiska, 1967.
Petruchin, Vladimir J., "Drevnjaja Rus'. Narod. Knjaz'ja. Religija", Iz istorii russkoj kul'tury, Moskva, Jazyki russkoj kul'tury, 2000, I.
Pirjevec, Marija, L'altra anima di Trieste. Saggi. Racconti. Testimonianze. Poesie, Trieste, Mladika, 2008.
Rigutini, Giuseppe, Vocabolario latino-italiano e italiano-latino, Firenze, Barbera Editore, 1925.
Sbriziolo, Itala Pia (ed.), Racconto dei tempi passati: cronaca russa del secolo XII, Torino, Einaudi, 1971.
Semerano, Giovanni, "Le origini della cultura europea", Dizionari etimologici. Basi semitiche delle lingue indeuropee, Tomo I: Dizionario della lingua greca; tomo II: Dizionario della lingua latina e di voci moderne, Firenze, Leo Olschki, 1994, II.
Snoj, Marko, Slovenski etimološki slovar, Ljubljana, Mladinska knjiga, 1997.
Trubačev, Oleg N. (ed.), Etimologičeskij slovar' slavjanskich jazykov, Moskva, Nauka, 1980, VII.
Vasmer (Fasmer), Maks, Etimologičeskij slovar' russkogo jazyka, Moskva, Progress, 1986, II.
Verč, Ivan, "La libertà di essere sloveni", Il territorio, IX (1986): 16-17.
Verč, Ivan, "Gli slavisti italiani sulla legge Maccanico", Trieste&oltre, I.3 (1993): 296-297.
Verginella, Marta, Il confine degli altri. La questione giuliana e la memoria slovena, Roma, Donzelli, 2008.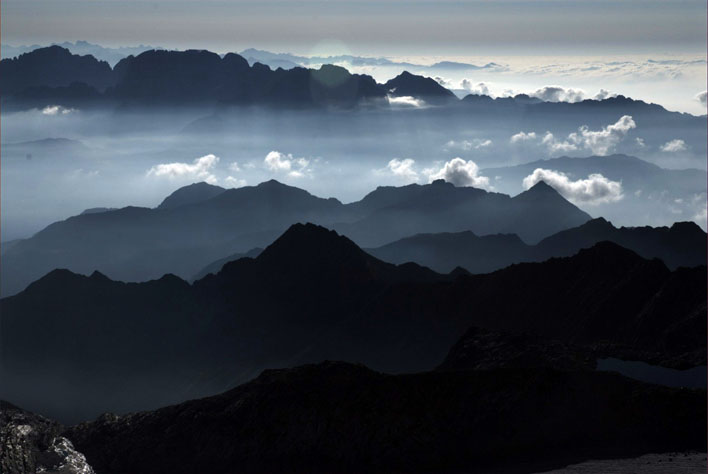 How to Cite
Verč, I. (2011). The Italian Eastern Border: About Lines, Areas and Volumes. Between, 1(1). https://doi.org/10.13125/2039-6597/90
Section
Cartographies of Comparative Studies
Copyright Notice

You are free to copy, distribute and transmit the work, and to adapt the work. You must attribute the work in the manner specified by the author or licensor (but not in any way that suggests that they endorse you or your use of the work).