On the Island of Philoctetes. Leopardi and the romantic topos of imprisonment
Valerio Camarotto

Sapienza Università di Roma
Abstract
The theme of imprisonment is deeply rooted in the Romantic tradition and has a peculiar declination in Leopardi. Starting from a note of the Zibaldone on the confinement of Philoctetes on the island of Lemnos (Zib. 4282), this contribution aims to show how Leopardi, inclined to represent himself as a prisoner and/or anchorite, and while investigating on the anthropological status of modernity, makes use of some topical polarities ([such as] immobility/action, darkness/light, interior/exterior) that are significantly recurrent in contemporary Italian and European literature from Manzoni to Byron, from Stendhal to Hugo. Nourished as much by a fruitful re-elaboration of Platonic-Christian coordinates (think of prison-life in the Dialogo di Plotino e Porfirio), as by the vigilant observation of current times – see, for example, the annotation on penitentiaries in the United States in Zib. 4045 –, the motif of imprisonment revolves prevalently around two distinct but related nuclei. On the one hand, the 'fall' of the human race and the annihilating effects of civilisation; on the other, the possible comfort that, paradoxically, isolation and restriction can offer to a corrupted and altered modern human being.
Downloads
Download data is not yet available.
References
Alessandri, Andrea, Mito e memoria. Filottete nell'immaginario occidentale, Roma, Editori Riuniti, 2009.
Bachelard, Gaston, La poetica dello spazio, trad. it. di E. Catalano, Bari, Dedalo, 1975.
Beccaria, Cesare, Dei delitti e delle pene […] coi Commenti del Voltaire, Confutazioni, ed altri opuscoli interessanti […], 4 to., Bassano, Remondini, 1797.
Béguin, Albert, L'anima romantica e il sogno. Saggio sul romanticismo tedesco e la poesia francese, Milano, Il Saggiatore, 1967.
Bellucci, Novella, Leopardi e i contemporanei. Testimonianze dall'Italia e dall'Europa in vita e in morte del poeta, Firenze, Ponte alle Grazie, 1996.
Ead., Itinerari leopardiani, Roma, Bulzoni, 2012.
Brombert, Victor, La prigione romantica. Saggio sull'immaginario, Bologna, Il Mulino, 1991.
Brozzi, Elisabetta, "Metodo", Per un lessico leopardiano, Eds. Novella Bellucci - Franco D'Intino, Roma, Palombi, 2011: 79-92.
Byron, George Gordon, Poetical Works, Ed. Frederick Page, corrected by John Jump, Oxford, Oxford University Press, 1970.
Camarotto, Valerio, "Metafore e lessico della prigionia in Alessandro Manzoni", Voci da dentro. Itinerari della reclusione nella letteratura italiana, Ed. Cristiano Spila, Roma, Bulzoni, 2008: 177-201.
Camiciottoli, Alessandro, "Un sogno platonico: lo strano caso di Torquato Tasso e del suo genio familiare", Rassegna della Letteratura Italiana, a. 115.1 (2011): 50-69.
Courcelle, Pierre, Conosci te stesso. Da Socrate a San Bernardo [1974-75], Milano, Vita e Pensiero, 2010.
D'Intino, Franco, L'immagine della voce. Leopardi, Platone e il libro morale, Venezia, Marsilio, 2009.
Id., "Il monaco indiavolato. Lo «Zibaldone» e la tentazione faustiana di Leopardi", Lo Zibaldone cento anni dopo, Atti del X Conv. Intern. di studi leopardiani, Firenze, Olschki, 2001.
Id., "Leopardi martire cristiano: il «Martirio de' Santi Padri»", in Leopardi 2012: 33-55.
Id., La caduta e il ritorno. Cinque movimenti dell'immaginario romantico leopardiano, Macerata, Quodlibet, 2019.
Id., L'amore indicibile. Eros e morte sacrificale nei «Canti» di Leopardi, Venezia, Marsilio, 2021.
Di Benedetto, Arnaldo, Dal tramonto dei Lumi al Romanticismo. Valutazioni, Modena, Mucchi, 2000.
Dugdale, Eric, "Philoctetes", Brill's Companion to the Reception of Sophocles, Eds. Rosanna Lauriola - Kiriakos N. Demetriou, Leiden-Boston, Brill, 2017: 77-145.
Dupaty, Charles, Lettres sur l'Italie 1785, 2 voll., Paris, De Senne, 1788.
Fasano, Pino, "Il sogno del prigioniero", Arcipelago malinconia. Scenari e parole dell'interiorità, Ed. Biancamaria Frabotta, Roma, Donzelli, 2001: 177-198.
Ferrucci, Franco, "Il sogno del prigioniero", Addio al Parnaso, Milano, Bompiani, 1971: 99-140.
Foscolo, Ugo, Opere. II. Prose e saggi, Ed. Franco Gavazzeni, Torino, Einaudi-Gallimard, 1995.
Foucault, Michel, Sorvegliare e punire. Nascita della prigione [1975], Torino, Einaudi, 2014.
Genetelli, Christian, Incursioni leopardiane. Nei dintorni della «conversione letteraria», Roma-Padova, Antenore, 2003.
Getto, Giovanni, Saggi leopardiani, Firenze, Vallecchi, 1966.
Gladstone, William Ewart, Gleanings of past years 1844-78, vol. II, Personal and Literary, London, John Murray, 1879.
Goethe, Johann Wolfgang, Werther, opera originale tedesca […], Venezia, Baglioni, 1811.
Hugo, Victor, Romans. I, presentation d'Henri Guillemin, Paris, Éditions du Seuil, 1963.
Ignatieff, Michael, Le origini del penitenziario. Sistema carcerario e rivoluzione industriale inglese (1750-1850), Milano, Mondadori, 1982.
Leopardi, Giacomo, "Entro dipinta gabbia". Tutti gli scritti inediti, rari e editi 1809-1810, Ed. Maria Corti, Milano, Bompiani, 1972.
Id., Poesie, Ed. Mario Andrea Rigoni, con un saggio di Cesare Galimberti, Milano, Mondadori, 1987.
Id., Prose, Ed. Rolando Damiani, Milano, Mondadori, 1988.
Id., Zibaldone di pensieri, Ed. Giuseppe Pacella, Milano, Garzanti, 1991.
Id., Epistolario, Eds. Franco Brioschi - Patrizia Landi, Torino, Bollati Boringhieri, 1998.
Id., Appressamento della morte, Ed. Sabrina Delcò-Toschini, intr. e commento di Christian Genetelli, Roma-Padova, Antenore, 2002.
Id., Volgarizzamenti in prosa 1822-1827, Ed. Franco D'Intino, Venezia, Marsilio, 2012.
Id., Disegni letterari, Eds. Franco D'Intino - Davide Pettinicchio - Lucia Abate, Macerata, Quodlibet, 2021.
Manzoni, Alessandro, Tutte le opere, vol. I, Ed. Mario Martelli, premessa di Riccardo Bacchelli, Firenze, Sansoni, 1973.
Melossi, Dario - Pavarini, Massimo, Carcere e fabbrica. Alle origini del sistema penitenziario [1977], Bologna, Il Mulino, 2018.
Natale, Massimo, Il canto delle idee. Leopardi fra «Pensiero dominante» e «Aspasia», Venezia, Marsilio, 2009.
Id., "Uniformità", Per un lessico leopardiano, Eds. Novella Bellucci - Franco D'Intino, Roma, Palombi, 2011: 151-161.
Noël, François-Joseph-Michel - Delaplace, François-Marie-Joseph, Leçons de littérature et de morale, 2 voll., Paris, Le Normant, 1810.
Puzzo, Giulia, "«La più eroica delle virtù». Il lessico della pazienza nell'opera di Giacomo Leopardi", Il lessico delle virtù nella letteratura italiana ed europea tra Settecento e Ottocento, Eds. Alviera Bussotti - Valerio Camarotto - Silvia Ricca, Roma, Sapienza Università Editrice, 2019: 75-86.
Starobinski, Jean, Jean-Jacques Rousseau. La trasparenza e l'ostacolo, Bologna, Il Mulino, 1982.
Id., L'ordine del giorno, Genova, il melangolo, 1990.
Id., Rousseau e Tasso. Lezione Sapegno 1993, Torino, Bollati Boringhieri, 1994.
Wordsworth, William, The Poetical Works, III, Ed. Ernest de Selincourt, Oxford, Clarendon Press, 1946.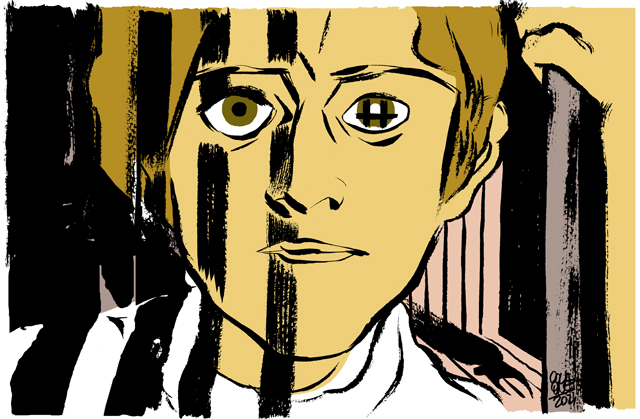 How to Cite
Camarotto, V. (2021). On the Island of Philoctetes. Leopardi and the romantic <em>topos</em&gt; of imprisonment. Between, 11(22), 27-47. https://doi.org/10.13125/2039-6597/4839
Copyright (c) 2021 Valerio Camarotto
This work is licensed under a Creative Commons Attribution-NonCommercial 4.0 International License.
Copyright Notice

You are free to copy, distribute and transmit the work, and to adapt the work. You must attribute the work in the manner specified by the author or licensor (but not in any way that suggests that they endorse you or your use of the work).