Due to Nanni (Between sense of the end and work-movement)
Tommaso Ottonieri

Università La Sapienza di Roma
Keywords:
Balestrini, Apocalypse, Poetry, Performance, Neo-avant-garde, Counterculture, Radical Criticism
Abstract
The essay proposes to consider the recurrence of the apocalyptic theme in Balestrini's work, in relation to the fabricated and unstoppable "movementist" nature of his action (textual, critical, and in the context of cultural organization). From an "antagonistic" point of view, the essay refers, among other things, to the L'orda d'oro (Golden Horde) season, and to the same editorial project behind the book (first published in 1988); and to the controversial experience of the review Quindici (1967-1969).
Downloads
Download data is not yet available.
References
Balestrini, Nanni, Gli invisibili, Milano, Bompiani 1987.
Id., La grande rivolta (Vogliamo tutto – Gli invisibili – L'editore), Ed. Aldo Nove, Milano, Bompiani, 1999.
Id., Tristano. Romanzo multiplo, prefazione di Umberto Eco, Roma, DeriveApprodi, 2007.
Id. (ed.), Quindici: una rivista e il Sessantotto, con un saggio di Andrea Cortellessa, Milano, Feltrinelli, 2008.
Id., Tristanoil, libro+dvd, con testi di Manuela Gandini [et. al.], Genova, Il Canneto, 2012.
Id., Antologica. Poesie 1958-2010, Ed. Ada Tosatti, Milano, Mondadori, 2013.
Balestrini, Nanni, Poesie complete, 3 voll., Roma, DeriveApprodi, 2015 (vol. I, 1954-1969: Come si agisce e altri procedimenti); 2016 (vol. II, 1972-1989: Le avventure della signorina Richmond e Blackout); 2018 (vol. III, 1990-2017: Coasmogonia e altro).
Id., La nuova violenza illustrata, Ed. Andrea Cortellessa, Torino, Bollati Boringhieri, 2019. Id., L'esplosione, postfazioni di Paolo Fabbri, Cecilia Bello Minchiacchi, Milli Graffi, Milano, Edizioni del Verri, 2019.
Balestrini, Nanni ̶ D'Amico, Tano, Ci abbiamo provato. Parole e immagini del Settantasette, Milano, Bompiani 2017.
Balestrini, Nanni ̶ Moroni, Primo, L'orda d'oro 1968-1977. La grande ondata rivoluzionaria e creativa, politica ed esistenziale, 2a ed., Ed. Sergio Bianchi, con la collaborazione di F. Berardi (Bifo), F. Chiaromonte, G. Daghini, L. Paolozzi, Milano, Feltrinelli, 1997.
Barilli, Renato ̶ Curi, Fausto ̶ Lorenzini, Niva (eds.), Il Gruppo 63 quarant'anni dopo. Bologna, 8-11 maggio 2003. Atti del Convegno, Bologna, Pendragon, 2005.
Berardi, Franco (Bifo), Il secondo avvento. Astrazione apocalisse comunismo, Roma, DeriveApprodi, 2018.
Cesarano, Giorgio ̶ Collu, Gianni, Apocalisse e rivoluzione, Bari, Dedalo libri, 1973.
Collettivo A/traverso, Alice è il diavolo. Storia di una radio sovversiva, Milano, L'erba voglio, 1976.
Cometa, Michele, Visioni della fine. Apocalissi, catastrofi, estinzioni, Palermo, Duepunti, 2004.
Debord, Guy, Commentari sulla societa dello spettacolo; e La società dello spettacolo, con una nota di Giorgio Agamben, Milano, SugarCo, 1990.
De Michelis, Ida (ed.), Apocalissi e letteratura, numero monografico di Studi (e testi) italiani), Roma, Bulzoni, 2005.
Ferroni, Giulio, Dopo la fine. Sulla condizione postuma della letteratura, Torino, Einaudi, 1996.
Liiceanu, Gabriel, Emil Cioran, itinerari di una vita, con L'Apocalisse secondo Cioran (ultima intervista filmata), Ed. Antonio Di Gennaro, Milano-Udine, Mimemis, 2018.
Novello, Neil (ed.), Apocalisse. Modernità e fine del mondo, Napoli, Liguori, 2008.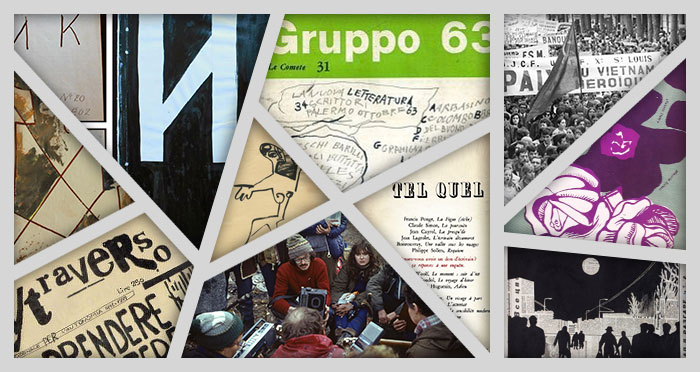 How to Cite
Ottonieri, T. (2020). Due to Nanni (Between sense of the end and work-movement). Between, 10(19), 354-376. https://doi.org/10.13125/2039-6597/4065
Copyright (c) 2020 Between
This work is licensed under a Creative Commons Attribution-NonCommercial 4.0 International License.
Copyright Notice

You are free to copy, distribute and transmit the work, and to adapt the work. You must attribute the work in the manner specified by the author or licensor (but not in any way that suggests that they endorse you or your use of the work).