"Editorial Guerrilla": Literature and Alternative Publishing in Italy in the 1960s and 1970s
Giovanna Lo Monaco

Università di Firenze
Keywords:
Alternative Publishing, Beat Literature, Neo-avantgarde, Counterculture, Alternative Literature
Abstract
The article analyzes the developments of the alternative editorial circuit promoted by the artistic-literary avant-gardes and counter-cultural movements in Italy during the 1960s and 1970s, with specific reference to the production of literary texts. The organization of the production system and the intent of the producers are taken into particular consideration, identifying the cultural objectives defined within a strategy of social and political opposition. The characteristics of the literature born in the countercultural field are also studied in depth.
Downloads
Download data is not yet available.
References
Alferj, Pasquale – Mazzone, Giacomo, I fiori di Gutenberg: analisi e prospettive dell'editoria alternativa, marginale, pirata in Italia e Europa, Roma, Arcana, 1979.
Balestrini, Nanni – Moroni, Primo, L'orda d'oro (1988), Milano, Feltrinelli, 2008.
Id. (ed.), Quindici: una rivista e il Sessantotto, Milano, Feltrinelli, 2008.
Bianchi, Sergio – Caminiti, Lanfranco, Gli autonomi. Le storie, le lotte, le teorie. Vol. 3, Roma, DeriveApprodi, 2008. 
Calvesi, Maurizio, Avanguardia di massa, Milano, Feltrinelli, 1978.
Camon, Ferdinando, Letteratura e classi subalterne, Padova, Marsilio, 1974.
Capelli, Luciano – Saviotti, Stefano (eds.), Alice è il diavolo. Sulla strada di Majakovskij: testi per una pratica di comunicazione sovversiva, Milano, L'Erba voglio, 1976.
Chiurchiù, Luca, La rivoluzione è finita abbiamo vinto. Storia della rivista "A/traverso", Roma, DeriveApprodi, 2017.
Ciaponi, Francesco, Underground. Ascesa e declino di un'altra editoria, Milano, Costa&Nolan, 2007.
Corti, Maria, "Segnali dall'editoria alternativa", Alfabeta, 5.1 (1979): 4-5.
Echaurren, Pablo – Salaris, Claudia, Controcultura in Italia 1967-1977, Torino, Bollati Boringhieri, 1999.
Eco, Umberto, "Per una guerriglia semiologica" (1976), Il costume di casa (1973), Milano, Bompiani, 2016.
Id., Sette anni di desiderio (1976), Milano, Bompiani, 2018.
Ferrandini, Silla, I fiori chiari, Milano, La scimmia verde, 1976. 
Ferretti, Gian Carlo, Autocritica dell'intellettuale, Venezia, Marsilio, 1970.
Id., Storia dell'editoria letteraria in Italia. 1945-2003, Torino, Einaudi, 2004.
Francisci, Bruno (ed.), Rassegna dell'esoeditoria italiana. Catalogo dell'esposizione internazionale. Trento 1971, Trento, Pro cultura, 1971.
Gallino, Ignazio Maria, 1965-1985: venti anni di controcultura, Milano, Ignazio Maria Gallino, 2016.
Gazzola, Eugenio, "Al miglio mugnaio". Adriano Spatola e i poeti del Mulino di Bazzano, Reggio Emilia, Diabasis, 2008.
Giovagnoli, Giorgio – Gnassi, Enrico – Leoni, Piero, Meldini, Piero (eds.), Per un'editoria democratica. Atti del Convegno di Rimini 7-9 giugno 1974, Firenze, Guaraldi, 1975.
Giuliani, Alfredo, "La letteratura selvaggia", Le droghe di Marsiglia, Milano, Adelphi, 1977.
Guglielmi, Angelo, Il piacere della letteratura, Milano, Feltrinelli, 1981.
Lo Monaco, Giovanna, "Beat italiano: la poesia del Sessantotto", Il '68. Costruzione e decostruzione di un mito, Ed. Sandro de Nobile, Chieti, Solfanelli, 2018: I l-20.
Maffei, Giorgio - Peterlini, Patrizio, Riviste d'arte d'avanguardia: esoeditoria negli anni Sessanta e Settanta in Italia, Milano, Bonnard, 2005.
Moroni, Primo, "La comunicazione antagonista: processi organizzativi", Alfabeta, 5.1 (1979): 5.
Muzzioli, Francesco, "Cavalieri con macchia e con paura", Quaderni di critica, 1 (1973).
Palandri, Enrico, Boccalone, Milano, L'Erba voglio, 1979.
Panella, Claudio, "Le meravigliose stagioni: l'attività editoriale di Nanni Balestrini negli anni '60 e '70 e l'esperienza di AR&A, Resine, 132-133 (2012): 196-207.
Pivano, Fernanda (ed.), Poesia degli ultimi americani, Milano, Feltrinelli, 1965.
Id., C'era una volta un beat: 10 anni di ricerca alternativa, Roma, Arcana, 1976.
Sanguineti, Edoardo, Ideologia e linguaggio (1965), Ed. E. Risso, Milano, Feltrinelli, 2001.
Sarenco, "Editorial 1", Lotta poetica, 1.1 (1971): 3.
Spatola, Adriano, Verso la poesia totale (1969), Salerno, Rumma, 1978.
Id., "Il breve quanto schematico Editoriale del numero 1", Tam Tam, 2.1 (1972): 4.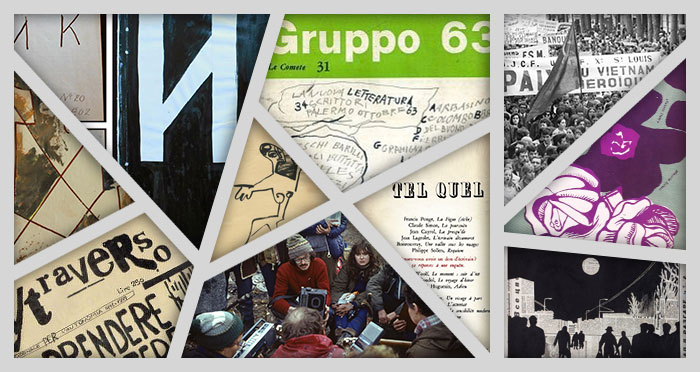 How to Cite
Lo Monaco, G. (2020). "Editorial Guerrilla": Literature and Alternative Publishing in Italy in the 1960s and 1970s. Between, 10(19), 272-290. https://doi.org/10.13125/2039-6597/4031
Copyright (c) 2020 Between
This work is licensed under a Creative Commons Attribution-NonCommercial 4.0 International License.
Copyright Notice

You are free to copy, distribute and transmit the work, and to adapt the work. You must attribute the work in the manner specified by the author or licensor (but not in any way that suggests that they endorse you or your use of the work).