"My favourite mask is myself": Disguise, Amplifications and Estrangements in Orson Welles's Acting
Mariapaola Pierini

Università di Torino
Keywords:
Acting, Cinema, Theatre, Orson Welles, Make-up
Abstract
In the extensive bibliography devoted to Orson Welles, his intense and crucial activity as an actor has been seldom investigated. Welles himself has always eluded the issue, considering his acting too tied to his "cumbersome personality". Nonetheless, his long acting career is not only relevant in itself, but appears to work as a mirror, at times distorted, of his role as a director and as a public figure. Furthermore, his performances are linked by a recognizable expressive strategy, marked by an irrepressible drive towards masquerade and falsification of his own physical features. This impulse, which is inseparable from the modernity of his work, culminates in an emblematic film, F for Fake (1973). This article aims to shed light on Welles as an actor, starting from archive materials and through an overview of his entire career. The purpose is to look at his performances in the light of the different strategies of mutation of his own real appearance (amplification, aging, degradation, camouflage), in relation to the different contexts and to the physiological changes occurring in his body. The article therefore presents a chronological overview and a classification of the various masking techniques adopted by Welles.
Downloads
Download data is not yet available.
References
Anderegg, Michael, Orson Welles, Shakespeare and Popular Culture, New York, Columbia University Press, 1999.
Anile, Alberto, "I favolosi anni Kodar", in E. Morreale (ed.), I mille volti di Orson Welles, Roma, Edizioni Sabinae-Centro Sperimentale di Cinematografia, 2015.
Atkinson, Brooks, "Mercury Theatre Restores George Bernard Shaw's 'Heartbreak House' to The Stage", in New York Times, April 30, 1938.
Balázs, Béla, Der sichtbare Mensch oder die Kultur des Films, 1924, tr. it. L'uomo visibile, Leonardo Quaresima (ed.), Torino, Lindau, 2008.
Barthes, Roland, La chambre claire. Note sur la fotographie, 1980, trad. it. La camera chiara. Nota sulla fotografia, Torino, Einaudi, 1980.
Bazin, André - Bitsch, Charles - Domarchi, Jean, "Nouvel entretien avec Orson Welles", in Cahiers du cinéma, n. 87, septembre 1958, ora in André Bazin, Orson Welles, Paris, Petite bibliothèque des Cahiers du Cinéma, 1998.
Callow, Simon, Orson Welles. The Road to Xanadu, London, Jonanthan Cape Ltd., 1995.
Calvino, Italo, "Due film e Stalin", in Cinema Nuovo, a. VIII, n. 137, gennaio-febbraio 1959, pp. 13-14.
Calvino, Italo, "L'avventura di un fotografo "(1970), in Id., Romanzi e racconti, Mario Barenghi, Bruno Falcetto (eds.), Milano, Mondadori, 1994, pp. 1096-1109.
Carluccio, Giulia, "Citizen Kane. Del personaggio prismatico e della sua interpretazione, tra ermeneutica, stile e gioco attoriale", in Giorgio de Vincenti, Enrico Carocci (eds.), Imago, n. 11., I pensieri dell'immagine. Scritti in onore di Paolo Bertetto, vol. II, settembre 2015, pp. 71-77.
Denning, Michael, "Towards a People's Theatre: The Cultural Politics of The Mercury Theatre", in Persistence of Vision, n. 7, 1989, pp. 24-38.
Drössler, Stefan (ed.), The Unknown Orson Welles, München Belleville-Filmmuseum München, 2004.
Flanagan, Hallie, Arena. The History of the Federal Theatre, New York, Duell, Sloan & Pearce, 1940.
France, Richard, The Theatre of Orson Welles, Lewisburg, Bucknell University Press, 1977.
France, Richard (ed.), Orson Welles on Shakespeare: The W.P.A. and The Mercury Theatre Playscripts, London-New York-Westport, Greenwood Press, 1990.
Genette, Gérard, Palimpsestes. La Littérature au second degré, 1982, trad.it. Palinsesti. La letteratura al secondo grado, Torino, Einaudi 1997.
Hel-Guedy, Johan-Frédérik, Orson Welles. La règle du faux, Paris, Éditions Michalon, 1997.
Houseman, John, Run-Through. A Memoir, New York, Simon & Schuster, 1972.
MacLiammóir, Micheál, All for Hecuba. An Irish Theatrical Autobiography, London, Methuen & Co. Ltd, 1946.
MacLiammóir, Micheál, "Orson Welles", in Sight and Sound, n. 1, July-September 1954, pp. 36-38, e p. 52.
Munk, Erika (ed.), Stanislavski and America, New York, Hill and Wang, 1966.
Nagel Elsa, L'art du mensonge et de la verité. Orson Welles, Le procès et Une histoire immortelle, Paris-Montréal, L'Harmattan, 1997.
Naremore, James, "The Director as Actor", in Morris Beja (ed.), Perspectives on Orson Welles, New York, G. K. Hall & Co., 1995, pp. 273-80.
Pavis, Patrice, L'analyse des spectacles, 1996, trad. it. L'analisi degli spettacoli. Teatro, mimo, danza, teatro-danza, cinema, Torino, Lindau, 2004.
Pierini, Mariapaola, Prima del cinema. Il teatro di Orson Welles, Roma, Bulzoni, 2006a.
Pierini, Mariapaola, "La chiamata alle armi: Welles e il teatro", in Brancaleone, n. 2, autunno 2006b, pp. 78-83.
Pierini, Mariapaola, "Gli aborigeni e gli uomini con la macchina da presa", in Luca Giuliani, Giorgio Placereani (eds.), My name is Orson Welles – Media, forme, linguaggi, Milano, il Castoro, 2007, pp. 88-99.
Vicentini, Claudio, "Le avventure del Sistema negli Stati Uniti", in Mel Gordon, Il Sistema di Stanislavskij. Dagli esperimenti del Teatro d'Arte alle tecniche dell'Actors Studio, Venezia, Marsilio, 1987, pp. 149-182.
Vicentini, Claudio, L'arte di guardare gli attori, Venezia, Marsilio, 2007.
Watts, Richard, "WPA Whimsy", in New York Herald Tribune, September 28, 1936.
Welles, Orson, "On Staging Shakespeare and on Shakespeare's Stage", in R. Hill, O. Welles (eds.), Everybody's Shakespeare. Three Plays, Woodstock, Todd Press, 1934.
Welles, Orson, The Director in the Theatre Today, Theatre Education League, 1939.
Welles, Orson, The New Actor, dattiloscritto inedito, s. d. (1940ca.), Lilly Library – Indiana University, Box 4, folder 26.
Welles, Orson, The Theatre in America, manoscritto inedito, s.d., Lilly Library- Indiana University, Box 4, folder 18.
Welles, Orson, Bogdanovich, Peter, This is Orson Welles, ed. Jonathan Rosenbaum, 1992, trad.it. Io, Orson Welles, Milano, Baldini & Castoldi, 1996.
Orson Welles in Bill Krohn, "My Favourite Mask is Myself", in Stefan Drössler (ed.), The Unknown Orson Welles, München, Belleville-Filmmuseum München, 2004.
Young, Stark, "Noctis Equi", in New Republic, February 17, 1937.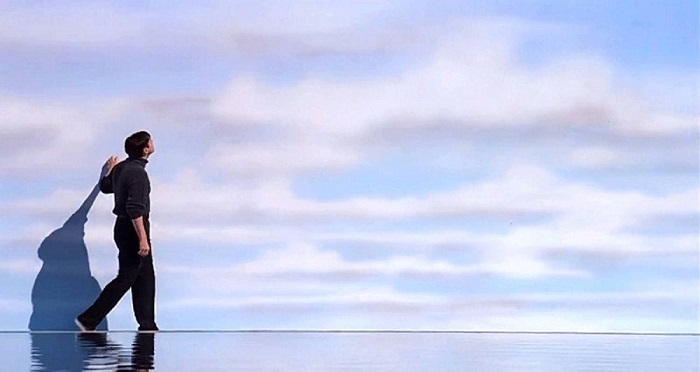 How to Cite
Pierini, M. (1). "My favourite mask is myself": Disguise, Amplifications and Estrangements in Orson Welles's Acting. Between, 9(18). https://doi.org/10.13125/2039-6597/3911
Copyright Notice

You are free to copy, distribute and transmit the work, and to adapt the work. You must attribute the work in the manner specified by the author or licensor (but not in any way that suggests that they endorse you or your use of the work).