Will Eisner's "Impossible Structures". Urban Chronotopes in Central City and Dropsie Avenue
Nicola Paladin

"Sapienza" Università di Roma
Keywords:
Will Eisner, Chronotope, Space, Dropsie Avenue, The Spirit
Abstract
The role of urban space and its representation constitute two focal elements in the work of Will Eisner. The majority of his production – from The Spirit to Dropsie Avenue – is set within fictional urban contexts well attributable to New York and, although those scenarios apparently function as a mere backdrop to the main scene, they influence the very structure of the stories.
This article aims at comparing the most relevant urban universes in Will Eisner's production – Central City in The Spirit and Dropsie Avenue in the A Contract with God trilogy –, in order to show how they both are grounded on a cyclical spatio/temporal structure, derived from the bachtinian notion of chronotope. In particular, the purpose of this analysis is to demonstrate how the representation of spatiality proves to be a fundamental component in Eisner's graphic narratives in so far as it is able to impact plots. Michail Bachtin's analysis of the chronotope in Greek romance provides a theoretical framework which will highlight some common mechanisms that can be identified in Eisner's work as well, and which confirm the chronotopic structure of his diegetic universe, and concur to attest the crucial role of the architecture of the narrative space both in determining the mobility of human characters and consequently in developing the stories.  
Downloads
Download data is not yet available.
References
Arnaudo, Marco, Il fumetto supereroico. Mito, etica e strategie narrative, Latina, Tunué, 2010.
Bachtin, Michail, Estetica e romanzo(1975), Torino, Einaudi, 2001.
Barbieri, Daniele, Semiotica del fumetto, Roma, Carocci, 2017.
Couch, Christopher - Weiner, Stephen, The Will Eisner Companion, New York, DC Comics, 2004.
Dong, Lan, "Thinly Disguised (Autobio)Graphical Stories: Will Eisner's Life, in Pictures", Shofar: an Interdisciplinary Journal of Jewish Studies, 29.2 (2011): 13.
Eisner, Will, A Contract with God and Other Tenement Stories, 1978.
Id., Comics and Sequential Art, Tamarac (FL), Poorhouse Press, 1985.
Id., A Life Force, New York, DC Comics, 2001 (1988).
Id., Dropsie Avenue, Northampton (MA), Kitchen Sink Press, 1995.
Id., Will Eisner's The Spirit Archives #1, New York, DC Comics, 2000.
Id., Will Eisner's The Spirit Archives #6, New York, DC Comics, 2001.
Inge, Thomas M. (ed.), Will Eisner: Conversations, Jackson, University Press of Mississippi, 2011.
McCloud, Scott, Understanding Comics: the Invisible Art (1993), New York, Harper Perennial, 1994.
Parker Royal, Derek, "Sequential Sketches of Ethnic Identity: Will Eisner's A Contract with God as Graphic Cycle", College Literature, 38.3 (2011a): 151.
Id., "There Goes the Neighborhood: Cycling Ethnoracial Tensions in Will Eisner's Dropsie Avenue", Shofar: an Interdisciplinary Journal of Jewish Studies, 29.2 (2011b): 120.
Shumaker, Michael, Will Eisner, A Dreamer's Life in Comics, New York, Bloomsbury, 2010.
Stein, Daniel - Thon, Jan-Noël, From Comic Strips to Graphic Novels, Berlin, De Gruyter, 2015.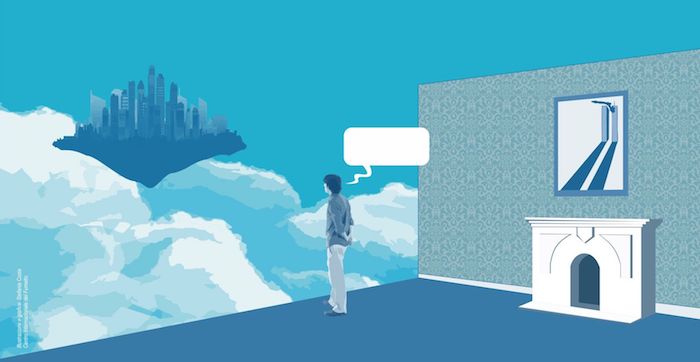 How to Cite
Paladin, N. (2018). Will Eisner's "Impossible Structures". Urban Chronotopes in Central City and <i>Dropsie Avenue</i&gt;. Between, 8(15). https://doi.org/10.13125/2039-6597/3240
Copyright Notice

You are free to copy, distribute and transmit the work, and to adapt the work. You must attribute the work in the manner specified by the author or licensor (but not in any way that suggests that they endorse you or your use of the work).