Antigone's Disorder
Abstract
Antigone represents the tragedy of politics, that is, the reversal of the logic of the mechanisms of State power. Analysis of Sofocle's tragedy in the light of the Friedrich Hölderlin's
'Notes' (1804) and its repercussions in the reception of 'Antigone' in Germany in the '70.
Downloads
Download data is not yet available.
References
Belardinelli A.M. - Greco G. (eds.), Antigone e le Antigoni. Storia forme fortuna di un mito, Firenze, Le Monnier Università, 2010.
Belloni, Luigi (ed.), Sofocle, Antigone, Pisa, ETS, 2014.
Bodei, Remo, "Conoscenza e dolore. Per una morfologia del tragico", Il Centauro, 7 (1983): 3-27.
Carrillo, Gennaro, "Bia(i) politon. Sulla disobbedienza di Antigone", Filosofia politica, 22. 1 (2008): 5-19.
Elsaesser, Thomas, Terror und Trauma. Zur Gewalt des Vergangenen in der BRD, Berlin, Kadmos, 2006/2007.
Fornaro, Sotera, Antigone. Storia di un mito, Roma, Carocci, 2012a.
Fornaro, Sotera, L' 'ora di Antigone' dal nazismo agli anni di piombo, Tübingen, Narr, 2012b.
Fornaro, Sotera, Antigone nell'età del terrorismo. Letteratura, cinema, teatro, Lecce, Pensa multimedia, 2016.
Matteo Galli, Heinz-Peter Preusser, Mythos Terrorismus - Vom Deutschen Herbst zum 11. September, Heidelberg, Universitätsverlag Winter, 2006.
Grieco, Agnese, Anatomia di una rivolta, Milano, il Saggiatore, 2010.
Hölderlin, Friedrich, Sämtliche Werke, Frankfurter Ausgabe, hrsg. Von M. Franz, Bd. 16, Frankfurt am Main, Stroemfeld, 1988.
Ioannidou, Eleftheria, Greek Fragments in Postmodern Frames: Rewriting Tragedy 1970-2005, Oxford, Oxford University Press, 2017
Klett, Renate (ed.), Germania d'autunno. Repressione e dissenso nello spettacolo della R.F.T., Milano, Ubulibri, 1979.
Lanza, Diego, "Nostalgie della tragedia", in Id., Interrogare il passato. Lo studio dell'antico tra Otto e Novecento, Roma, Carocci, 2013: 139-170 (versione integrata e ritoccata di: La tragedia e il tragico, in I Greci, a cura di S. Settis, Torino 1996, vol. I, pp. 469 ss.)
Lehmann, Hans-Thies, Erschütterte Ordnung – Das Modell Antigone, in: Das politische Schreiben, Berlin, Theater der Zeit, 2002: 28-43.
Longhi, Claudio, "Antigone o della Germania. Per una 'storia' delle 'rappresentazioni' di Antigone in area tedesca nel secondo Novecento", in Alonge, Roberto (a cura di), Antigone, volti di un enigma. Da Sofocle alle Brigate Rosse, Bari, Pagina edizioni, 2008: 293-396.
Most, Glenn W., "Schlegel, Schlegel und die Geburt eines Tragödienparadigma", Poetica, 25, 1-2 (1993): 155-75.
Most, Glenn W., Generating genres: the idea of the Tragic, in Depew, Mary – Obbink, Dirk (eds.), Matrices of Genres. Author, Canon and Society, Harvard, Harvard University Press, 2000: 15-35.
Negt, Oskar - Kluge, Alexander, Geschichte und Eigensinn, Frankfurt am Main, Suhrkamp, 1981: 767-769.
Oikonomou, Maria, "Entgegengeboren, dazwischengefallen – Zur Position Antigones im 'Deutschen Herbst'", in Ulrich Meier, Marie-Elisabeth Mitsou, Maria Oikonomou (eds.), Perseus' Schild. Griechische Frauenbilder im Film, München, Ars Una Neuried, 2008: 187-211.
Paduano, Guido, Edipo. Storia di un mito, Roma, Carocci, 2008.
Pizzati, Carlo, "Gli dei della Grecia sono tra noi", Doppiozero, 8.11.2017 (http://www.doppiozero.com/materiali/gli-dei-della-grecia-sono-tra-noi)
Porciani, Elena, Nostra sorella Antigone. Disambientazioni di genere nel Novecento e oltre, Catania, Villaggio Maori Edizioni, 2016.
Rodighiero, Andrea, La tragedia greca, Bologna, il Mulino, 2013.
Steiner, George, Le Antigoni, Milano, Garzanti, 1990 [I ed. Oxford 1984].
Sofocle, Antigone, introduzione, traduzione e commento di Davide Susanetti, Roma, Carocci, 2012.
Tarantino, Antonio, Materiali per una tragedia tedesca, Imola, Cue press, 2016. [edizione originale 2000].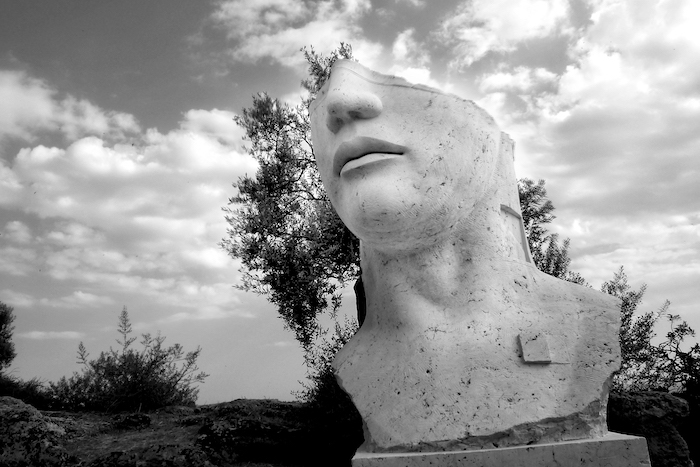 How to Cite
Fornaro, S. (2017). Antigone's Disorder. Between, 7(14). https://doi.org/10.13125/2039-6597/2797
Section
The Tragic in the Contemporary Scene
Copyright Notice

You are free to copy, distribute and transmit the work, and to adapt the work. You must attribute the work in the manner specified by the author or licensor (but not in any way that suggests that they endorse you or your use of the work).