Être là ou ne pas être là – esquisse de typologie du spectral dans quelques œuvres littéraires occidentales contemporaines
Catherine Grall

Université de Picardie Jules Verne
Keywords:
literature, contemporary, fiction, realism, spectrality
Abstract
Abrstact (english)
Contemporary realistic fiction sometimes includes features which echo ancient ghost tales. Some characters come back after their death, other experience great difficulties inhabiting the present, as if they were haunted. Can we suggest and interpret a categorization of such novels ? A varied corpus enables us to make a few hypotheses, to be explored in further  research developments. Novels in French, English, Spanish, Portuguese, German or Serbian reveal at least three non exclusive groups : the past, other  cultures, unaccomplished revolutions trouble realistic writings, that can be enlightened by theories of the novel (Ricœur, Pavel), theses taken from aesthtetics (Warburg, Foster, Didi-Hubermann), ideas coming from cultural studies and philosophy (Bhabha, Zizek, Derrida). Through such fictions, the reader is confronted with radical forms of alterity which he cannot ignore. It is a new « ideographic » dimension (to borrow Pavel's word in La Pensée du roman), in which the paradigm of actions is replaced by pathetic patterns which take on broader social and ethical issues.
Résumeé (français)
La fiction contemporaine soucieuse du monde actuel accueille parfois, de manière paradoxale, des phénomènes qui font penser aux récits de fantômes anciens : certains  personnages sont des revenants, d'autres, comme hantés, éprouvent de vraies difficultés à vivre au présent. Peut-on définir une typologie de ces personnages et celle-ci peut-elle être interprétée? Un corpus assez varié permet d'esquisser des hypothèses, à développer dans un travail plus ample. Des romans de langues française, anglaise, espagnole, portugaise, allemande, serbe révèlent au moins trois grandes catégories, qui ne sont pas exclusives : le passé, l'autre culture, la révolution non accomplie travaillent des écritures que l'on peut éclairer grâce à des théories du roman (Ricœur, Pavel), des emprunts à l'esthétique plastique (Warburg, Foster, Didi-Hubermann) et à des considérations culturalistes et philosophiques (Bhabha, Zizek, Derrida). Ces fictions qui mettent en scène un monde réaliste font éprouver une altérité radicale en son sein même, comme une nécessité à reconnaître : il s'agit d'une nouvelle dimension idéographique de la fiction (selon le mot de Pavel dans La Pensée du roman), où la paradigme actantiel cède au profit de formes pathétiques qui expriment des enjeux collectifs.
Downloads
Download data is not yet available.
References
Albahari, David, Snežni čovek (1995), trad. du serbe par Gojko Lukić et Gabriel Iaculli: L'Homme de neige, Paris, Gallimard,2004
Balzac, Honoré de, Le Colonel Chabert, Œuvres complètes. La Comédie humaine, Paris, Furne, Dubochet et Cie, Hetzel, 1844
Barthes, Roland, La Chambre claire, Paris, Gallimard, 1980
Butler, Judith, « Soulèvement », Soulèvements, Georges Didi-Hubermann ed., Paris, Gallimard, Jeu de Paume, 2016
Bhabha, Homi K., "DissemiNation: Time, Narrative and the Margins of the Modern Nation", Location of Culture, London, Routledge, 1994
Cercas, Javier, Soldados de Salamina, (2001), trad. de l'espagnol par Elisabeth Beyer et Aleksandar Grujicic: Soldats de Salamine, Paris, Le Livre de Poche, 2002
Chamoiseau, Patrick, L'Empreinte à Crusoé, Paris, Gallimard, 2012
Couto, Mia, A Varanda do Frangipani, 1996, trad. du portugais (Mozambique) en français par M. Lapouge-Pettorelli: La véranda au frangipanier, Paris, Albin Michel, 2000
Derrida, Jacques, Spectres de Marx, Paris, Galilée, 1993
Didi-Hubermann, Georges, L'Image survivante. Histoire de l'art et temps des fantômes selon Aby Warburg, Paris, Minuit, « Paradoxe », 2002
Fanon, Frantz, "Racisme et culture" (1956), Présence africaine, 2002/1, n° 165-166 : 77-84
Flynn, Nick, Another Bullshit Night in Suck City, New York, W. W. Norton, 2004
Flynn, Nick, The Reenactments: A Memoir, New York, W. W. Norton, 2013
Foster, Hal, Le Retour du réel – situation actuelle de l'avant-garde (1996), Bruxelles, La Lettre volée, 2005
Ginzburg, Carlo, « Peur révérence terreur » (2008), Peur révérence terreur. Quatre essais d'iconographie politique, trad. de l'anglais et de l'italien par Martin Rueff, Paris, Les Presses du réel, 2013
Glissant, Edouard, « Entretien », Pour une littérature-monde, Le Bris, Michel, & Rouaud, Jean (ed.), Paris, Gallimard, Hors-série Littérature, 2007
Grace, Patricia, Baby no-eyes, Hawaï, University of Hawaï Press, 1998
Griaule, Marcel, Dieu d'eau : entretiens avec Ogotemmeli, Paris, Éditions du Chêne, 1948
Hamel, Jean-François, Revenances de l'histoire. Répétition, narrativité, modernité, Paris, Minuit, « Paradoxe », 2006
Hawthorne, Nathaniel, The Scarlet Letter and Other Writings (1850), Leland S. Person ed., New York, Norton Critical edition, 2004
Hoffmann, E.T.A., Der Sandmann, 1817, trad. de l'allemand par F.-A. Loève-Veimars : L'Homme au sable, Paris, Collection La Bibliothèque Gallimard (n° 108), Gallimard, 2003
Joseph-Vilain, Mélanie - Misrahi-Barak, Judith (ed.), Postcolonial Ghosts / Fantômes postcoloniaux – avec des poèmes de Gerry Turcotte, Montpellier, Presses universitaires de la Méditerranée, 2010.
Kunzru, Hari, Gods without Men, London, Penguin, 2011
Kunzru, Hari, My Revolutions, London, Hamish Hamilton, 2007
Lecercle, François, « L'automate et le faiseur de troubles. Les usages de l'ombre dans la tragédie de la Renaissance », Dramaturgies de l'ombre, Lavocat, Françoise, & Lecercle, François (ed.), Rennes, Presses Universitaires de Rennes, « Interférences », 2005
Marx, Karl, Le 18 Brumaire de Louis Bonaparte (1852), trad. de l'allemand par M. Rubel, Œuvres, t. IV : Politique I, Paris, Gallimard, bibliothèque de la Pléiade, 1994
Morrison, Toni, Beloved, Alfred Knopf,1987, trad. de l'américain par Hortense Chabrier et Sylviane Rué : Beloved, Paris, 10/18, 2008
Pavel, Thomas, La pensée du roman, Paris, Gallimard, 2003
Riboulet, Mathieu, Entre les deux il n'y a rien, Lagrasse, Verdier, 2015
Ricœur, Paul, Temps et récit 1. L'intrigue et le récit historique, Paris, Seuil, 1991
Sebald, W. G., Austerlitz, München, Carl Hanser Verlag, 2001, trad. de l'allemand par Patrick Charbonneau : Austerlitz, Arles, Actes Sud, 2002, ;
Sebald, W. G., Die Ausgewanderten, Frankfurt, Fischer, 1994, trad. de l'allemand par Patrick Charbonneau: Les émigrants: quatre récits illustrés, Arles, Actes Sud, 1999
Sebald, W. G., Luftkrieg und Literatur, Berlin, Hanser, 1999, trad. de l'allemand par Patrick Charbonneau: De la destruction comme élément de l'histoire naturelle, Arles, Actes Sud, 2004
Filmography
Being Flynn, dir. Paul Weitz, U. S. A., 2012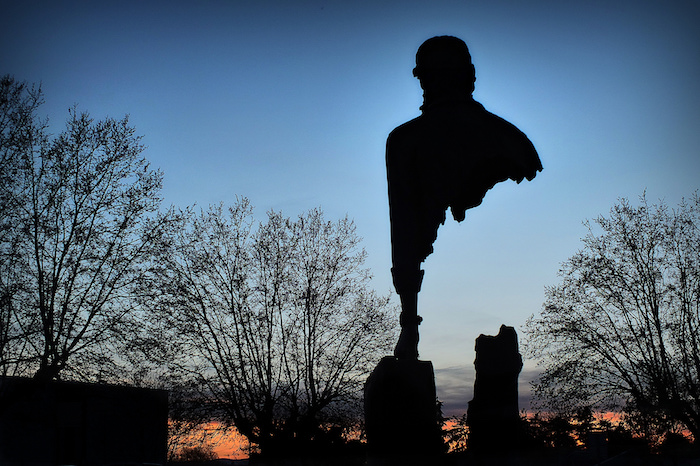 How to Cite
Grall, C. (2017). Être là ou ne pas être là – esquisse de typologie du spectral dans quelques œuvres littéraires occidentales contemporaines. Between, 7(13). https://doi.org/10.13125/2039-6597/2493
Section
Belonging in Expression and Representation
Copyright Notice

You are free to copy, distribute and transmit the work, and to adapt the work. You must attribute the work in the manner specified by the author or licensor (but not in any way that suggests that they endorse you or your use of the work).