Dissident "street art" resisting neo-Soviet discourse: the"Voina" and "Pussy Riot" groups
Gabriella Elina Imposti

Alma Mater Studiorum Università di Bologna
Keywords:
Art-Group Voina, Russian Federation, artivism, dissident art, Vorotnikov, Plutser-Sarno, Tolokonnikova, Pussy Riot
Abstract
The link between Moscow art-group "Voina" and the movement of Moscow Conceptualism was clear when, in 2007, it planned a performance with the artist Dmitrii Prigov, called "Voina/War does only unskilled jobs".  Prigov died before he could take part in the performance but the group "Voina"  has since carried out an ever more spectacular series of  projects, bordering on pornography, as in the notorious performance "Fuck for the Heir Puppy Bear!", staged in February 2008, when five couples had public sex in Moscow's Museum of Biology. This and other actions were filmed and posted on YouTube and other social networks, immediately going viral. The same M.O. was adopted in the actions of  the group "Pussy Riot", and in Ukraine by "Femen".While more traditional media such as TV and radio are government monopolies, access to internet and social media is still free and provides a powerful means for these dissident groups to publicize their performances against the restoration of neo-Soviet ideology and to assert their non-conformist identity.
Downloads
Download data is not yet available.
References
Anders, Gunther, «The World As Phantom And As Matrix», Dissent (3:1), (Winter) 1956, pp. 14-24.
Bakhtin, Mikhail, Tvorchestvo Fransua Rable i narodnaya kul'tura srednevekov'ya i Renessansa [The works of François Rabelais and the popular culture of the Middle Ages and Renaissance], Moscow: Khudozhestvennaya literatura, 1965.
Baudrillard, Jean, The Gulf War Did Not Take Place, translated and with an introduction by Paul Patton, Bloomington: Indiana University Press, 1995.
Bessant, Judith, Democracy Bytes: New Media, New Politics and Generational Change, Basingstoke: Palgrave Macmillan, 2014.
Epshtein, Alek, "Voina", Total'naja "Vojna" Art-aktivizm epokhi tandemokratii ["Voina": Art-activism in the Age of Tamdemocracy], Moscow: Georgii Eremin, 2012.
Epshtein, Alek, «The Voina Group: Radical Actionist Protest in Contemporary Russia», in Post-Post-Soviet? Art, Politics & Society In Russia At The Turn Of The Decade, edited by Marta Dziewańska, Ekaterina Degot & Ilya Budraitskis, Warsaw: Museum Of Modern Art, 2013, pp. 263-276.
Foucault, Michel, «What is an Author?», in M. Foucault, Essential Works of Foucault: Aesthetic, Method and Epistemology, edited by James Faubion, English translation by R. Hurley and others, vol. 2, New York: The New Press, 1998, pp. 205-222.
Jonson, Lena , Art and Protest in Putin's Russia, London and New York: Routledge, 2015.
Tolokonnikova, Nadezhda & Žižek, Slavoj, Comradley Greetings: the Prison Letters of Nadya and Slavoj, London and New York: Verso, 2014.
Sitography
(Last access in December 2015)
«Aktsiya! Aktsiya! Pussy Riot Likvidatsiya! Pussy Riot is dead» May 2015
http://pussy-riot.livejournal.com/34906.html
>
Archive Colta ru (Pussy Riot in Sochi 14 February 2014)
http://archives.colta.ru/docs/27877
>
Artinfo.ru/ Oleg Kulik
http://www.artinfo.ru/RU/news/main/OlegKulik.htm
>
Berlinbiennale.de
http://www.berlinbiennale.de/blog/en/1st-6th-biennale/7th-berlin-biennale
Bernstein 2013 Bernstein, Anya, «Post-Soviet Body Politics: Crime and Punishment in the Pussy Riot Affair»
http://somatosphere.net/2013/09/post-soviet-body-politics-crime-and-punishment-in-the-pussy-riot-affair.html
>
Braidotti, Rosi, «Punk Women and Riot Grrrls» (First Supper Symposium, Oslo, May 12, 2014)
http://www.thefirstsuppersymposium.org/index.php/en/text-symposium-2014
>
Corrieredelveneto
http://corrieredelveneto.corriere.it/veneto/notizie/cronaca/2014/31 -luglio-2014/venezia-dissidente-russo-arrestato-l-associazione-non-estradatelo---223663546384.shtml
Epshtein Langenburg, «Zhdanov protiv Rodchenko: chetvyortaya volna Avantgarda na skame podsudimykh» [Zhdanov against Rodchenko: the Fourth Wave of Avant-garde in the dock] (Langenburg interviews Epshtein)
http://www.be-in.ru/art-process/25620-pussy_riot_process/
>
Gazeta.ru 2011/02/24
http://www.gazeta.ru/news/lenta/2011/02/24/n_1719509.shtml
Idov 2012 «Pussy Riot prove the only professionals in sight» Friday 17 August 2012
http://www.theguardian.com/commentisfree/2012/aug/17/pussy-riot-only-professionals-in-sight
Informareperesistere
http://www.informarexresistere.fr/2011/02/18/le-anime-vive-di-voina/
Langston 2012 «Meeting Pussy Riot» by Henry Langston
http://www.vice.com/read/A-Russian-Pussy-Riot
Macaomilano (2012). Inaugurazione mostra dei VOINA – «Soon we'll be completely fearless»
http://www.macaomilano.org/appuntamenti/750
>
Nekhezin 2013 «Konets istorii Pussy Rayot?» [Is this the end of Pussy Riot's history?]
http://www.bbc.com/russian/russia/2013/12/131227_tolokonnikova_alekhina_end_of_pussy_riot.shtml
>
Nikolaev, Anton «Artivizm i aktivizm» [Artivism and activism]
http://halfaman.livejournal.com/510998.html
>
Nikolaev, Anton «Bombily»
http://halfaman.livejournal.com/510998.html
Nikolaev, Anton «Ob artivisme» [About Artivizm]
http://halfaman.livejournal.com/661972.html
Plutser-Sarno 26/11/2008, Evgeniy Finkel, interview with Aleksey Plutser-Sarno
http://www.newsru.co.il/world/26nov2008/plucer_102.html
Plutser-Sarno blog
http: / / plucer.livejournal.com
Pussy Riot at Banksy's Dismaland November 18, 2015
http://pitchfork.com/news/62174-pussy-riot-perform-at-banksys-dismaland-in-refugees-in-video/
>
Pussy Riot closing Statement (August 13, 2012)
https://nplusonemag.com/online-only/online-only/pussy-riot-closing-statements/
Pussy Riot gets whipped in Sochi (Vice News)
https://www.youtube.com/watch?v=FFrZfluKDrc
>
Pussy Riot livejournal
http://pussy-riot.livejournal.com/12442.html
Pussy Riot songs
http://songspro.ru/43/Pussy-Riot
>
Saledocks
http://www.saledocks.org/voina-soon-well-be-completely-fearless
http://www.stereogum.com/1666006/pussy-riot-putin-will-teach-you-how-to-love-video/video/
http://www.theguardian.com/music/2014/feb/19/pussy-riot-attacked-whips-cossack-milita-sochi-winter-olympics
Tolokonnikova 2014 «Amelia Gentleman interviews Nadia Tolokonnikova for the Guardian»
http://www.theguardian.com/theguardian/2014/sep/19/nadya-tolokonnikova-pussy-riot-interview-nothing-to-lose
Tolokonnikova Alyokhina 2013 Interview with Nadezhda Tolokonnikova and Maria Alyokhina «Pussy Riot: Putin, chekist s obiliem strakhov» [PR: Putin, a chekist with a lot of fears], published 27-12-2013
http://www.svoboda.org/content/article/25214238.html ,
http://www.uadaily.net/index.php?view=5611
http://www.vedomosti.ru/library/news/2006/05/10/prezident-rf-predlozhil-programmu-stimulirovaniya-rozhdaemosti-v-rossii ,
Žižek 2012 «The True Blasphemy»
https://chtodelat.wordpress.com/2012/08/07/the-true-blasphemy-slavoj-zizek-on-pussy-riot/
Zoladz, Lindsay «Interview with Pussy Riot's Nadya Tolokonnikova i Masha Alyokhina» April 10, 2014
http://pitchfork.com/features/interviews/9374-nadya-tolokonnikova-and-masha-alyokhina-of-pussy-riot/
>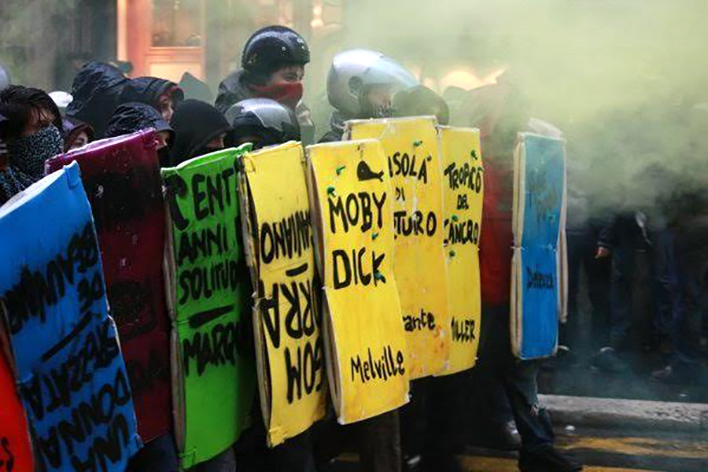 How to Cite
Imposti, G. (2016). Dissident "street art" resisting neo-Soviet discourse: the"Voina" and "Pussy Riot" groups. Between, 5(10). https://doi.org/10.13125/2039-6597/1862
Section
Logics of Power, Practices of Resistance
Copyright Notice

You are free to copy, distribute and transmit the work, and to adapt the work. You must attribute the work in the manner specified by the author or licensor (but not in any way that suggests that they endorse you or your use of the work).