«Non sono il luogo di una storia generale». Reading Milo De Angelis in the light of Franco Fortini
Claudia Crocco

Università di Trento
Keywords:
Milo De Angelis, Contemporary Poetry, Politics, Utopia, Franco Fortini.
Abstract
The aim of this paper is to analyze the poetry of Milo De Angelis, one of the most important poet in Italy after 1968. I will highlight some important features of De Angelis' work, throughout a comparison with the poetry of Franco Fortini. The political consciousness is what apparently divides mostly Fortini, the typical poet engagé, and De Angelis, which has sometimes be considered the symbol of postmodern poetry in Italy and of the so called "cultura del riflusso". Nonetheless, identifying similarities among their poetics may be useful in order to point out the changes in the relationship between poetry and politics after the Seventies. In this article I shall analyze two poems of De Angelis, both taken from Somiglianze (Guanda, 1976), his most important book. I will also make use of his translations and interviews. 
Downloads
Download data is not yet available.
References
Affinati, Erardo, Patto giurato. La poesia di Milo De Angelis, Pescara, Tracce, 1996.
Id., "Introduzione", Milo De Angelis, Poesie, Milano, Mondadori, 2008.
Blanchot, Maurice, L'attesa, l'oblio, Milano, Guanda, 1978.
Id., La conversazione infinita, Torino, Einaudi, 2015.
Borio, Maria, Franco Fortini, Milo De Angelis e la poesia degli anni Settanta, in "Le parole e le cose", http://www.leparoleelecose.it/?p=14837, 1 maggio 2014, consultato il 14 maggio 2015.
Cortellessa, Andrea, "Per una parola liminare. Alcune direzioni di operatività dell'ultimo quarto di secolo", Eds. Andrea Cortellessa - Flavio Ermini - Giò Ferri, Verso l'inizio: percorsi della ricerca poetica oltre il Novecento. Verona, Anterem, 2000.
Crocco, Claudia, "Dialogo con Milo De Angelis", Semicerchio, LI.2 (2014).
Dalmas, Davide, La protesta di Fortini, Aosta, Stylos, 2006.
De Angelis, Milo, Poesia e destino, Bologna, Cappelli, 1982.
Fortini, Franco, Tutte le poesie, Ed. Luca Lenzini, Milano, Mondadori, 2014.
Id., Saggi ed epigrammi, Ed. Luca Lenzini, Milano, Mondadori, 2003.
Jameson, Fredric, Il desiderio chiamato utopia, Milano, Feltrinelli, 2007.
Gauchet, Marcel, Redeker, Robert, Utopia e modernità, Città Aperta, 2005.
Lenzini, Luca, Il poeta di nome Fortini, Firenze, Manni, 1999.
Id., Stile tardo. Poeti del Novecento italiano, Macerata, Quodlibet, 2008.
Id., Un'antica promessa. Studi su Fortini, Macerata, Quodlibet, 2012.
Luperini, Romano, Il futuro di Fortini, Firenze, Manni, 2007.
Mazzoni, Guido, Forma e solitudine, Milano, Marcos y Marcos, 2002.
Id., "Fortini e il presente", Eds. Luca Lenzini - Elisabetta Nencini -Felice Rappezzo, Dieci inverni senza Fortini. Atti delle giornate di studio nel decennale della scomparsa, Macerata, Quodlibet, 2006.
Mengaldo, Pier Vincenzo, "Lettera a Franco Fortini sulla sua poesia", La tradizione del Novecento. Seconda serie, Torino, Einaudi, 2003: 341-357.
Nietzsche, Friedrich, La nascita della tragedia, Milano, Adelphi, 1994.
Pavese, Cesare, Il mestiere di vivere. Diario 1935-1950, Torino, Einaudi, 2006.
Piccini, Daniele, Milo De Angelis, La poesia italiana dal 1960 ad oggi, Milano, Rizzoli, 2005: 515-21.
Simonetti, Gianluigi, "Mito delle origini, nevrosi della fine. Sulla poesia italiana di questi anni", Le parole e le cose, http://www.leparoleelecose.it/?p=5322, 2 giugno 2012, consultato il 14 maggio 2015.
Tabacco, Giuliano, "«Questa goffa bruttura indescrivibile». Lettura di cinque poesie di Milo De Angelis", Filologia Antica e Moderna, 21 (2001): 147-76.
Thompson Peter, Zizek Slavoj, The privatization of hope. Ernst Bloch and the future of Utopia, Duke University Press, 2013.
Vincentini, Isabella (ed.), Colloqui sulla poesia. Milo De Angelis, Milano, La Vita Felice, 2008.
Zublena, Paolo, "Milo De Angelis", Giancarlo Alfano - Alessandro Baldacci - Cecilia Bello Minciacchi - Andrea Cortellessa - Massimiliano Manganelli - Raffaella Scarpa – Fabio Zinelli - Paolo Zublena, Parola plurale. Sessantaquattro poeti tra due secoli, Roma, Sossella, 2005: 173-77.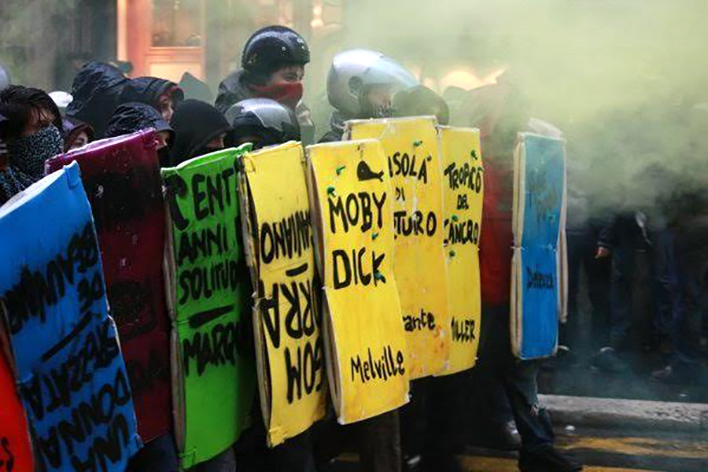 How to Cite
Crocco, C. (2015). «Non sono il luogo di una storia generale». Reading Milo De Angelis in the light of Franco Fortini. Between, 5(10). https://doi.org/10.13125/2039-6597/1707
Section
Politics and ethics of Lyric Poetry
Copyright Notice

You are free to copy, distribute and transmit the work, and to adapt the work. You must attribute the work in the manner specified by the author or licensor (but not in any way that suggests that they endorse you or your use of the work).