A representation of Power between cinema and theatre: Elio De Capitani's Berlusconi
Laura Mariani

Università degli studi Alma Mater di Bologna
Keywords:
De Capitani, Berlusconi, Il Caimano
Abstract
The essay analyzes actor Elio De Capitani's performance of the role of Italian prime minister Silvio Berlusconi in Nanni Moretti's 2006 film, Il caimano ("The Caimon"). Working in the gap between Academic History and Stage History, the essay argues that the practice of the actor, whose work embodies not ideas but human beings rendered more true than reality itself, is as central to theatrical interpretation as that of the playwright or director. Coming from the performance tradition of Italian prose theatre, but drawing also from Stanislavki, his European and American followers, and from contemporary experiments, De Capitani creates an incarnation of power on the scale of Shakespeare's Richard III, but that includes also Jarry's Pere Ubu and Brecht's Arturo Ui. De Capitani's Berlusconi is a postideological tyrant whose public and private selves, inextricably confused one with another, combine strength and weakness, ambition and foolishness. The result is a Berlusconi whose triumph of 2006 foreshadows the squalor of his dotage in 2015.
Downloads
Download data is not yet available.
References
Aliverti, Maria Ines, "Meldolesi legge il Settecento teatrale", Prove di Drammaturgia, 1-2 (2014): 9-13.
Attisani, Antonio, L'arte e il sapere dell'attore. Teorie e figure, Torino, Accademia University Press, 2015.
Bandettini, Anna, "De Capitani: Niente parodia il mio Silvio è essenziale", la Repubblica, 24.03.2006.
Belpoliti, Marco, Il corpo del capo, Parma, Ugo Guanda Editore, 2009.
Bentoglio, Alberto - Rondelli, Alessia - Tisano, Silvia, Il Teatro dell'Elfo (1973-2013). Quarant'anni di teatro d'arte contemporanea, Milano, Mimesis, 2013.
Bertone, Clotilde - Fusillo, Massimo - Simonetti, Gianluigi (eds.), Nell'occhio di chi guarda. Scrittori e registi di fronte all'immagine, Roma, Donzelli, 2014.
Byrne, Richard W., "Social cognition: imitation, imitation, imitation",Current Biology, 13 (2005).
Cantrell, Tom - Luckhurst Mary (eds.), Playing for real. Actors on Playing Real People, London, Palgrave Macmillan, 2010.
De Capitani, Elio, "Così sono entrato nei panni del Caimano", Diario, 21 (2006): 30-33.
De Gaetano, Roberto, Nanni Moretti. Lo smarrimento del presente, Cosenza, Pellegrini Editore, 2015.
De Marinis, Marco, In cerca dell'attore. Un bilancio del Novecento teatrale, Roma, Bulzoni, 2000.
De Marinis, Marco, Il teatro dopo l'età d'oro. Novecento e oltre, Roma, Bulzoni, 2013.
Deriu, Fabrizio, Gian Maria Volonté. Il lavoro dell'attore, Roma, Bulzoni, 1997.
Donini, Pierluigi, "Introduzione", Aristotele, Poetica, Ed. Pierluigi Donini, Einaudi, Torino, 2008.
Guccini, Gerardo, "Biographic-theater. Osservazioni sulle rigenerazioni contemporanee dell'attore interprete", Identità italiana e civiltà globale. Meticciati, relazioni, attraversamenti, rapporti con la modernità, Ed. Ilona Fried, Budapest, Eötvös Lorànd Tudomànyegyetem, 2012: 97-109.
Jandelli, Cristina, I protagonisti. La recitazione nel film contemporaneo, Venezia, Marsilio, 2013.
Id., I ruoli nel teatro italiano tra Otto e Novecento. Con un dizionario di 68 voci, Firenze, Le Lettere, 2002.
Jouvet, Louis, Elogio del disordine, Ed. Stefano De Matteis, Firenze, la casa Usher, 1989.
Josephson, Erland, Memorie di un attore, Ed. Vanda Monaco Westerståhl, Roma, Bulzoni, 2002.
Mariani, Laura, "Intervista a Elio De Capitani", Bologna, 11 gennaio 2015 (inedita).
Meldolesi, Claudio, Fondamenti del teatro italiano. La generazione dei registi (1984), Roma, Bulzoni, 2008.
Meldolesi, Claudio, Pensare l'attore, Eds. Laura Mariani – Mirella Schino – Ferdinando Taviani, Roma, Bulzoni, 2014.
Morandini, Laura, Luisa e Morando, il Morandini 2007. Dizionario dei film 2006, Bologna, Zanichelli, 2007.
Morreale, Emiliano, "Dumusst Berlusconi werden", Speciale Il Caimano di Nanni Moretti, Cineforum, 454 (2006).
Podavini, Davide, "Ricezione ed elaborazione della retorica politica contemporanea: il caso della poesia dell'ultimo Raboni", Between, IV.7 (2014), http://www.Between-journal.it/, online (ultimo accesso: 20/11/2015).
Panosetti, Daniela, "Politicsis so overrated. Michael Dobbs e lo storytelling", doppiozero, 02.01.2015 http://www.doppiozero.com/materiali/ovvioottuso/politics-so-overrated-michael-dobbs-e-lo-storytelling, online (ultimo accesso: 20/11/2015).
Saglia, Diego, "Parola, corpo, potere: esercizi di lettura dal Julius Caesar di Shakespeare a Death and the Maiden di Ariel Dorfman", Between, IV.7 (2014), http://www.Between-journal.it/, online (ultimo accesso: 20/11/2015).
Stanislavskij, Konstantin Seergevič, Il lavoro dell'attore su se stesso, Roma-Bari, Laterza, 1997 (1938).
Tcherkasski, Sergei, "Twofaced Giovanni Grasso and His Great Spectators or What Stanislavsky, Meyerhold and Strasberg Actually Stole from the Sicilian Actor", Sica, Anna (ed.), The Italian method of La Drammatica. Its Legacy and Reception, Mimesis, Milano 2014: 109-132.
Tristano, Alberto Alfredo, "Il caimano Berlusconi, attore prigioniero del potere", 28.06.2013, http://www.elfo.org/stagioni/20132014/frostnixon.html, online (ultimo accesso: 20/11/2015).
Vicentini, Claudio, L'arte di guardare gli attori, Venezia, Marsilio, 2007.
Vilardo, Maria Cristina, "Elio De Capitani. Il mio Nixon che graffia la vita", Il Piccolo, 2.12.2014.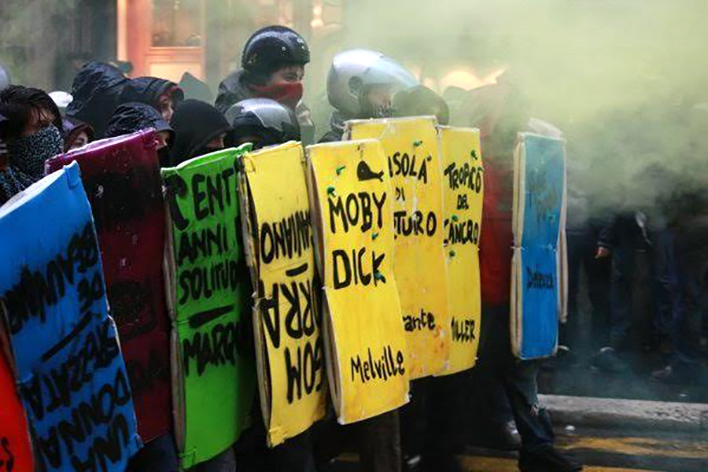 How to Cite
Mariani, L. (2015). A representation of Power between cinema and theatre: Elio De Capitani's Berlusconi. Between, 5(10). https://doi.org/10.13125/2039-6597/1603
Section
Politics on Stage
Copyright Notice

You are free to copy, distribute and transmit the work, and to adapt the work. You must attribute the work in the manner specified by the author or licensor (but not in any way that suggests that they endorse you or your use of the work).