«La penna l'ho lasciata a casa»: Literature and Power
Cristina Nesi

Università di Siena e IIS Ferraris Brunelleschi di Empoli
Keywords:
Literature, Education, Didactics, University, School
Abstract
The current situation of the humanities, which have been resized both in university and in secondary education, seems to many the sign of a crisis that involves the role of literary knowledge, its social authority, the education of students and the literary criticism. How can we ensure that literature could enter into dialogue with the present of our students, could answer their concerns and could unmask the reality? Benjamin reminds us that, due to the crisis of humanistic culture, the history of literature has lost sight of its most important task, that is the educational goal. In Italy, between thousands of conflicts and trenches, the role of literature has been determined by mistrust between universities and educational school system. Furthermore, in the last 20 years, the match has been played (SSIS, TFA) and will be played (D.D.L. 3/12/2015 La Buona Scuola) on the ground of the initial training for teachers of humanities in secondary schools.
Downloads
Download data is not yet available.
References
Barbero, Carola, Filosofia della letteratura, Roma, Carocci, 2013.
Bartoccioni, Clorinda - Gamboni, Marina - Del Lungo, Silvestra - Gnisci, Armando - Goldoni, Annalisa - Mordenti, Raul (eds.), Fare e sapere letterario: il teatro della didattica: atti del Convegno di studi di Villa Falconieri (Frascati, 23-25 maggio 1984), Roma, Carucci, 1986.
Benjamin, Walter, "Storia della letteratura e scienza della letteratura", in Avanguardie e rivoluzione, Torino, Einaudi, 1973.
Bertoni, Federico, "L'educazione letteraria: Appunti di un insegnante del XXI Secolo", Between, III. 6 (2013), http://www.Between-journal.it/ .
Bourdieu, Pierre, "Per un corporativismo dell'universale", Le regole dell'arte: genesi e struttura del campo letterario, Milano, Il Saggiatore, 2005.
Calvino, Italo, "Usi politici giusti e sbagliati della letteratura", Una pietra sopra. Discorsi di letteratura e società, Torino, Einaudi, 1980.
Canetti, Elias, Potere e sopravvivenza, Milano, Adelphi, 1974.
Carboni, Carlo (ed.), Élite e classi dirigenti in Italia, Bari, Laterza, 2007.
Ceserani, Remo, Raccontare la letteratura, Torino, Bollati Boringhieri, 1990.
Ceserani, Remo, Convergenze. Gli strumenti letterari e le altre discipline, Milano, Bruno Mondadori, 2010.
Fenoglio, Beppe, Il partigiano Johnny, Torino, Einaudi, 2005.
Forti, Simona, I nuovi demoni, Milano, Feltrinelli, 2012.
Fortini, Franco, Nuovi Saggi Italiani 2, Milano, Garzanti, 1987.
Giunta, Fabio, "Perché gli studi umanistici oggi 1", Le parole e le cose, 21/10/2011, http://www.leparoleelecose.it/?p=1559 online (ultimo accesso 28/04/2015).
Ichino, Pietro, "Cambiamo i Licei a menù fisso", 17/11/2014, http://www.pietroichino.it/?p=33470 online (ultimo accesso 28/04/2015).
Levi, Primo, I sommersi e i salvati, Opere, vol. II, Ed. Marco Belpoliti, Torino, Einaudi, 1997.
Luperini, Romano, Insegnare la letteratura, Lecce, Manni, 2002.
Magrelli, Valerio, À quoi sert la littérature?, Tavola rotonda, Università Roma 3, 7 marzo 2007, SFF (Seminario di Filologia Francese), http://www.filologiafrancese.it/index.php/menu_sez=a_cosa_serve_la_letteratura2 online (ultimo accesso 08/11/2014)
Mantegazza, Raffaele, Filosofia dell'Educazione, Milano, Bruno Mondadori, 1998.
Meneghello, Luigi, Fiori italiani (1976), Opere, vol. II, Ed. Francesca Caputo, Milano, Rizzoli, 1997.
Mordenti, Raul, L'altra critica. La nuova critica della letteratura fra studi culturali, didattica e informatica, Roma, Meltemi, 2007.
Nietzsche, Friedrich, Sull'avvenire delle nostre scuole, Milano, Adelphi, 1975.
Nussbaum, Martha, Non per profitto. Perché le democrazie hanno bisogno della cultura umanistica, Bologna, Il Mulino, 2011.
Pellini, Pier Luigi, "Perché gli studi umanistici oggi 2", Le parole e le cose, 28/10/2011, http://www.leparoleelecose.it/?p=1662 online (ultimo accesso 28/04/2015).
Santarone, Donatello, "Letteratura e intercultura", Claves para la investigación en innovación y calidad educativas. La integración de las Tecnologías de la Información y la Comunicación y la Interculturalidad en las aulas / Strumenti di ricerca per l'innovazione e la qualità in ambito educativo. Le Tecnologie dell'Informazione e della Comunicazione e l'Interculturalità nella scuola, Eds. Rosabel Roig Vila -Massimiliano Fiorucci, Roma, Alcoy&Roma - Marfil&Università degli Studi Roma Tre, 2010.
Schaeffer, Jean-Marie, Piccola ecologia degli studi letterari. Come e perché studiare letteratura, Torino, Loescher, 2014.
Todorov, Tzvetan, La letteratura in pericolo, Milano, Garzanti, 2008.
Tonelli, Natascia (ed.), Per una letteratura delle competenze, Torino, Loescher, 2013.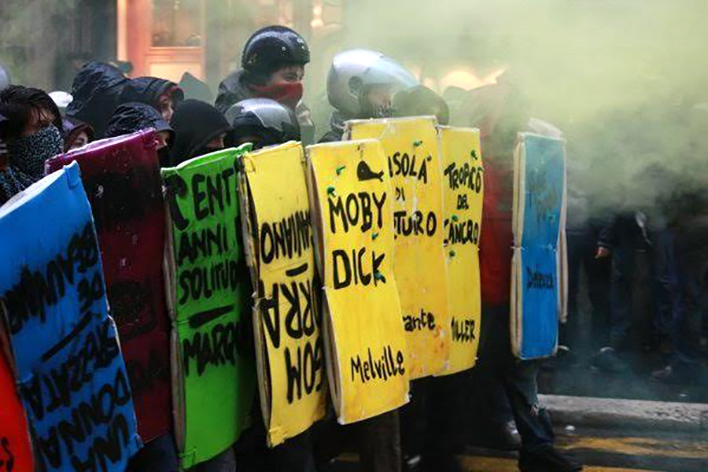 How to Cite
Nesi, C. (2015). «La penna l'ho lasciata a casa»: Literature and Power. Between, 5(10). https://doi.org/10.13125/2039-6597/1542
Section
Theories, Forms, Institutions
Copyright Notice

You are free to copy, distribute and transmit the work, and to adapt the work. You must attribute the work in the manner specified by the author or licensor (but not in any way that suggests that they endorse you or your use of the work).