About Gomorrah
Keywords:
Gomorrah, Roberto Saviano, The Jackal, Brand
Abstract
The focus of this study is to examine Gomorrah, between his medial transformations and Roberto Saviano's role in those narrations. Since 2006, when the book was published, the story narrated by Saviano does not stop its transcoding: a movie directed by Matteo Garrone (2008), a theater play written by Mario Gelardi and Roberto Saviano (2008) and a television series directed by Francesca Comencini, Claudio Cupellini and Stefano Sollima (2015-2016).
This study proposes also a reflection on the reality of the Gomorrah history beyond fiction drama. Part of this study examines the transformation of the mediatic "character" of Roberto Saviano, writer and intellectual, which "plays" with cognitive capitalism instruments, for instance when he becomes a character of a parody web-series realized by the Jackal. Does Saviano's presence work like a brand after Gomorrah? 
Downloads
Download data is not yet available.
References
Ardvisson, Adam, Brand. Meaning and Value in Media Culture, New York, Routledge, 2006, trad. it. La marca nell'economia dell'informazione. Per una teoria dei brand, Milano, Franco Angeli, 2006.
Benedetti, Carla – Petroni, Franco – Policastro Gilda – Tricomi, Antonio, "Roberto Saviano, Gomora", Allegoria, XX. 57 (2008) : 173-195.
Bertoni, Clotilde, Letteratura e giornalismo, Roma, Carocci, 2009.
Brancato, Sergio, Senza fine. Immaginario e scrittura della fiction seriale in Italia, Napoli, Liguori, 2007.
Brancato, Sergio, (a cura di), Post serialità: per una sociologia delle tv-series. Dinamiche di trasformazione della fiction televisiva, Napoli, Liguori, 2011.
Buonanno, Milly, Le formule del racconto televisivo: la sovversione del tempo nelle narrative seriali, Milano, Sansoni, 2002.
Calabrese, Stefano, "Wertherfieber, bovarismo e altre patologie della lettura romanzesca", La cultura del romanzo, Ed. Franco Moretti, Torino, Einaudi, 2001 : 567- 598.
Cardini, Daniela, La lunga serialità televisiva: origini e modelli, Roma, Carocci, 2004.
Dal Lago, Alessandro, Eroi di Carta. Il caso Gomorra e altre epopee, Roma, Manifestolibri, 2010.
Debord, Guy, La société du spectacle (1967), trad. It. La società dello spettacolo, Milano, Baldini Castoldi Dalai, 2004.
Donnarumma, Raffaele, Ipermodernità. Dove va la narrativa contemporanea, Bologna, Il Mulino, 2014.
Giglioli, Daniele, Senza Trauma. Scrittura dell'estremo e narrativa del nuovo millennio, Macerata, Quodlibet, 2011.
Jedlowski, Paolo, Fogli nella valigia. Sociologia, cultura, vita quotidiana, Bologna, il Mulino, 2003.
Jenkins, Henry, Textual Poachers: Television Fans and Participatory Culture, New York, Routledge, 1992.
Jossa, Stefano, Un paese senza eroi. L'Italia da Jacopo Ortis a Montalbano, Bari-Roma, Laterza, 2013.
La Capria, Raffaele, "L'armonia perduta" (1986), Opere, Milano, Meridiani Mondadori, 2003.
Luperini, Romano, Tramonto e resistenza della critica, Milano, Quodlibet, 2013.
Mazzarella, Arturo, Poetiche dell'irrealtà. Scritture e visioni tra Gomora e Abu Ghraib, Torino, Bollati Boringhieri, 2011.
Mazzoni, Guido, Teoria del romanzo, Bologna, Il Mulino, 2010.
Pellini, Pierluigi, "Lo scrittore come intellettuale. Dall'affaire Dreyfus all'affaire Saviano: modelli e stereotipi", Allegoria, XXIII.63 (2011): 135-163.
Saviano, Roberto, Gomorra. Viaggio nell'impero economico e nel sogno di dominio della camorra, Milano, Mondadori, 2006.
Saviano, Roberto, La bellezza e l'inferno. Scritti 2004-2009, Milano, Mondadori. 2009.
Zaccaria, Anna Maria, "Donne di Camorra", Traffici criminali. Camorra, mafie e reti internazionali dell'illegalità, Ed. Gabriella Gribaudi, Torino, Bollati Boringhieri, 2009 : 280-309.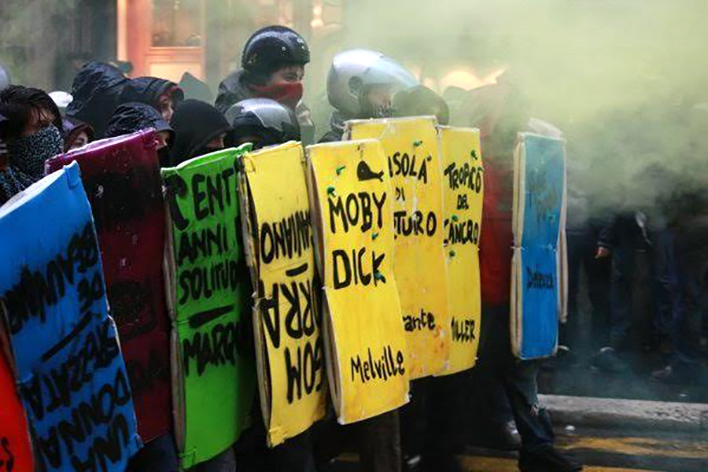 How to Cite
Moccia, M. (2015). About Gomorrah. Between, 5(10). https://doi.org/10.13125/2039-6597/1528
Section
Logics of Power, Practices of Resistance
Copyright Notice

You are free to copy, distribute and transmit the work, and to adapt the work. You must attribute the work in the manner specified by the author or licensor (but not in any way that suggests that they endorse you or your use of the work).