Claude McKay between United States and Soviet Union: African-American Identity and Socialist Utopia
Fiorenzo Iuliano

University of Cagliari, Italy
Keywords:
McKay, URSS, Harlem Renaissance
Abstract
This article analyzes Claude McKay's essays on politics and society, especially those dealing with the racial question in the 1920s US. It reviews these texts, alongside other works (poems and autobiographical writings) that McKay produced on the same topics. The article aims at tracing a trajectory in McKay's political thought: after criticizing the social and economic structures of capitalist and colonial societies, McKay envisages in post-revolutionary USSR a utopian society for oppressed people worldwide. However, his writings, rather than depicting the actual USSR society he knew in the early 1920s, evokes the multicultural myth of the 'melting pot' traditionally used to celebrate the US. McKay, maybe unwillingly, enthusiastically praises the myth of American exceptionalism, referring it to the USSR.
Downloads
Download data is not yet available.
References
Anderson, Kevin B., "The Rediscovery and Persistence of Dialectic in Philosophy and in World Politics", Lenin Reloaded: Toward a Politics of Truth, Eds. Sebastian Budgen – Eustache Kouvélakis – Slavoj Žižek, Durham, Duke University Press, 2007: 120-147.
Cooper, Wayne, "Claude McKay and the New Negro of the 1920's", Phylon, 25.3 (1964): 297-306.
______, "Introduction", McKay 1973: 1-41.
DuBois, W.E.B., "The Talented Tenth", Id., Writings, Ed. Nathan Huggins, New York, Library of America, 1986: 842-61 (ed. orig. 1903).
Foucault, Michel, "Des Espaces autres. Une Conférence inédite de Michel Foucault", Architecture, Mouvement, Continuité, 5 (1984): 46-49.
Holcomb, Gary Edward, "Diaspora Cruises: Queer Black Proletarianism in Claude McKay's A Long Way from Home", MFS Modern Fiction Studies, 49.4 (2003): 714-745.
Iuliano, Fiorenzo, "Staging the Stigma: Syphilis and Its Metaphors in Claude McKay's The Clinic", Status Quaestionis, 6 (2014): 40-62, http://ojs.uniroma1.it/index.php/statusquaestionis/article/view/12472/12467
Jahn, Hubertus F., "'Us': Russians on Russianness", National Identity in Russian Culture. An Introduction, Eds. Simon Franklin – Emma Widdis, Cambridge, Cambridge University Press, 2004: 53-73.
Jackson Griffin, Barbara, "The Last Word: Claude McKay's Unpublished 'Cycle Manuscript'", MELUS, 21.1 (1996): 41-57.
Keller, James R., "'A Chafing Savage, Down the Decent Street': The Politics of Compromise in Claude McKay's Protest Sonnets", African American Review, 28.3 (1994): 447-456.
Marx, Karl, Zur Judenfrage (1843), trad. it. di Diego Fusari, Sulla questione ebraica, Milano, Bompiani, 2007.
McKay, Claude, The Passion of Claude McKay. Selected Poetry and Prose, 1912-1949, Ed. Wayne Cooper, New York, Schocken Books, 1973.
______, Complete Poems, Ed. William J. Maxwell, Urbana – Chicago, University of Illinois Press, 2004.
______, A Long Way from Home, New Brunswick – London, Rutgers University Press, 2007 (ed. orig. 1937).
McLeod, A.L., "Claude McKay's Adaptation to Audience", Kunapipi, 2.1 (1980): 123-134.
Piretto, Gian Piero, Il radioso avvenire. Mitologie culturali sovietiche, Torino, Einaudi, 2001.
Ramesh, Kotti Sree – Rani, Kandula Nirupa, Claude Mckay: The Literary Identity from Jamaica to Harlem and Beyond, Jefferson, McFarland & Company, 2006.
Smethurst, James Edward, The New Red Negro: The Literary Left and African American Poetry, 1930-1946, New York – Oxford, Oxford University Press, 1999.
Tagirova-Daley, Tatiana A., Claude McKay's Liberating Narrative. Russian and Anglophone Caribbean Literary Connections, New York, Peter Lang, 2012.
Tillery, Tyrone, Claude McKay: A Black Poet's Struggle for Identity, Amherst, University of Massachusetts Press, 1992.
Vogel, Shane, "Rereading Du Bois Reading McKay. Uplift Sociology and the Problem of Amusement", Id., The Scene of Harlem Cabaret. Race, Sexuality, Performance, Chicago – London, The University of Chicago Press, 2009: 132-166.
Zumoff, J.A., "Mulattos, Reds, and the Fight for Black Liberation in Claude McKay's Trial By Lynching and Negroes in America", Journal of West Indian Literature, 19.1 (2010): 22-53.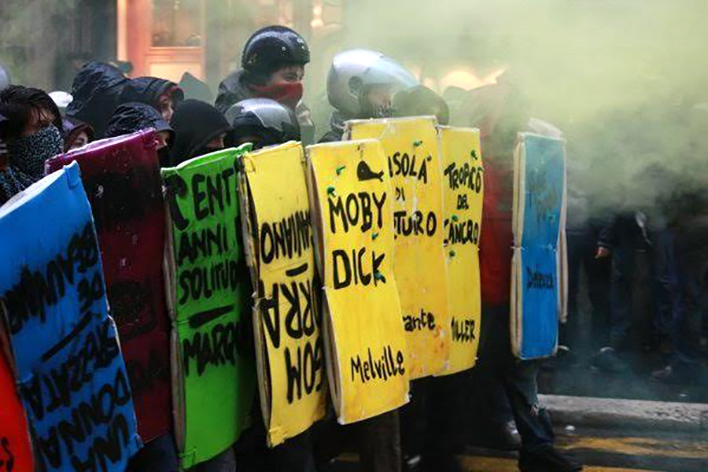 How to Cite
Iuliano, F. (2016). Claude McKay between United States and Soviet Union: African-American Identity and Socialist Utopia. Between, 5(10). https://doi.org/10.13125/2039-6597/1507
Section
Politics and Crossover Literatures
Copyright Notice

You are free to copy, distribute and transmit the work, and to adapt the work. You must attribute the work in the manner specified by the author or licensor (but not in any way that suggests that they endorse you or your use of the work).