Contemporary Seicento: On the Dark Background of the Italian Historical Novel
Davide Messina

University of Edinburgh
Keywords:
Seicento, Baroque, Italian Historical Novel, contemporary, obscurity
Abstract
While the historical novel is a product of European Romanticism, the first Italian historical novel expresses the critical awareness of its origin against the dark background of the Seicento. For the historical and political imagination of the Italian Romanticism, the Seicento represents the Middle Age of modernity, namely the obscurity of the contemporary. From the dark background of the Seicento the Italian historical novel draws stories that reflect on the obscurity of its own time. In particular, my essay examines a selection of contemporary texts that show the continued and critical presence of the Seicento in the Italian historical novel.
Downloads
Download data is not yet available.
References
Agamben, Giorgio, Che cos'è il contemporaneo?, Roma, Nottetempo, 2008.
Arendt, Hannah, Eichmann in Jerusalem: A Report on the Banality of Evil (1963), trad. it. di Piero Bernardini, La banalità del male. Eichmann a Gerusalemme (1964), Milano, Feltrinelli, 2013.
Banti, Anna, Artemisia (1947), Milano, Bompiani, 2006.
Ead., Un grido lacerante, Milano, Rizzoli, 1981.
Barthes, Roland, La Préparation du roman I et II: Cours et séminaires au Collège de France 1978-1979 et 1979-1980 (2003), trad. it. di Emiliana Galiani e Julia Ponzio, La preparazione del romanzo: Corsi (I e II) e Seminari al Collège de France (1978-1979 e 1979-1980), 2 voll., Milano, Mimesis, 2010.
Benjamin, Walter, Ursprung des deutschen Trauerspiels (1928), trad. it. di Enrico Filippini, Il dramma barocco tedesco, Torino, Einaudi, 1980 (1971).
Id., Ombre corte. Scritti 1928-1929, Ed. Giorgio Agamben, Torino, Einaudi, 1993.
Bruno, Giordano, De umbris idearum (1582), trad. it. di Antonio Caiazza, L'ombra delle idee, Milano, Spirali, 1988.
Calvino, Italo, Lettere 1940-1985, Ed. Luca Baranelli, Milano, Mondadori, 2000.
Cases, Cesare, Il boom di Roscellino: satire e polemiche, Torino, Einaudi, 1990.
Céline, Louis-Ferdinand, Voyage au bout de la nuit (1932), trad. it. di Ernesto Ferrero, Viaggio al termine della notte, Milano, Corbaccio, 1992.
Consolo, Vincenzo Il sorriso dell'ignoto marinaio, Torino, Einaudi, 1976.
Croce, Benedetto, Storia dell'età barocca in Italia (1929), Milano, Adelphi, 1993.
Della Valle, Federico, Tragedie, Milano, Mursia, 1988.
De Sanctis, Francesco, Storia della letteratura italiana, Ed. Niccolò Gallo, Torino, Einaudi, 1958, 2 voll.
Eco, Umberto, Diario minimo, Milano, Bompiani, 1992.
Evangelisti, Valerio, Nicolas Eymerich, Inquisitore, Milano, Mondadori, 1994.
Ginzburg, Carlo, Il formaggio e i vermi: il cosmo di un mugnaio del '500, Torino, Einaudi, 1999 (1976); trad. ing. di John e Anne C. Tedeschi, The Cheese and the Worms: The Cosmos of a Sixteenth-Century Miller (1980), Baltimore, The Johns Hopkins University Press, 1992.
Goethe, Johann W., Theilnahme Goethes an Manzoni (1827), trad. it. di Camillo Ugoni, Interesse di Goethe per Manzoni, Lugano, Ruggia, 1827.
Janeczek, Helena, Lezioni di tenebra (1997), Milano, Guanda, 2011.
Le Goff, Jacques, Un long Moyen Âge (2004), trad. it. di Mariachiara Giovannini, Un lungo Medioevo,Bari, Dedalo, 2006.
Levi, Giovanni, L'eredità immateriale, Torino, Einaudi, 1985.
Longhi, Roberto, Il Caravaggio (1952), Roma, Editori Riuniti, 1968.
Manzoni, Alessandro, "Del romanzo storico e, in genere, de' componimenti misti di storia e d'invenzione", Tutte le opere, Ed. Silvia De Laude, Milano, Centro Nazionale Studi Manzoniani, 2000, V.
Id., Lettre à Monsieur Chauvet sur l'unité de temps et de lieu dans la tragédie (1820), trad. it. di Sabrina Fattori, Lettera al Signor Chauvet sull'unità di tempo e di luogo nella tragedia, Ed. Barnaba Maj, Firenze, Aletheia, 1999.
Id., "I Promessi sposi", Tutte le opere, Eds. Alberto Chiari – Fausto Ghisalberti, Milano, Mondadori, 1964, II.1.
Id., "Storia della colonna infame", Tutte le opere, Eds. Alberto Chiari – Fausto Ghisalberti, Milano, Mondadori, 1964, II.1.
Mazzucco, Melania, La lunga attesa dell'angelo, Milano, Rizzoli, 2008.
Mommsen, Theodor, "Petrarch's Conception of the 'Dark Ages'", Speculum, 17 (1942): 226-42.
Morandini, Giuliana, Sospiri e palpiti: Scrittrici italiane del Seicento, Genova, Marietti, 2001.
Morante, Elsa, La Storia, Torino, Einaudi, 1974.
Santoro, Marco, "La più stupenda e gloriosa macchina": il romanzo italiano del secolo XVII, Napoli, SEN, 1981.
Sciascia, Leonardo, "Nota" a A. Manzoni Storia della colonna infame(1973), Palermo, Sellerio, 1995: 169-90.
Id., Il Consiglio d'Egitto (1963), Torino, Einaudi, 1966.
Spaccini, Jacqueline, Sotto la protezione di Artemide Diana: l'elemento pittorico nella narrativa italiana contemporanea (1975-2000), Soveria Mannelli, Rubbettino, 2008.
Tabucchi, Antonio, Di tutto resta un poco. Letteratura e cinema, Ed. Anna Dolfi, Milano, Feltrinelli, 2013.
Vassalli, Sebastiano, La Chimera, Torino, Einaudi, 1990.
Verri, Pietro, "Osservazioni sulla tortura" (1777), Opere, Ed. Carlo Capra, Roma, Edizioni di storia e letteratura, 2010: 37-141, VI.
Vico, Giambattista, La scienza nuova (1744), Ed. Paolo Rossi, Milano, BUR, 1998.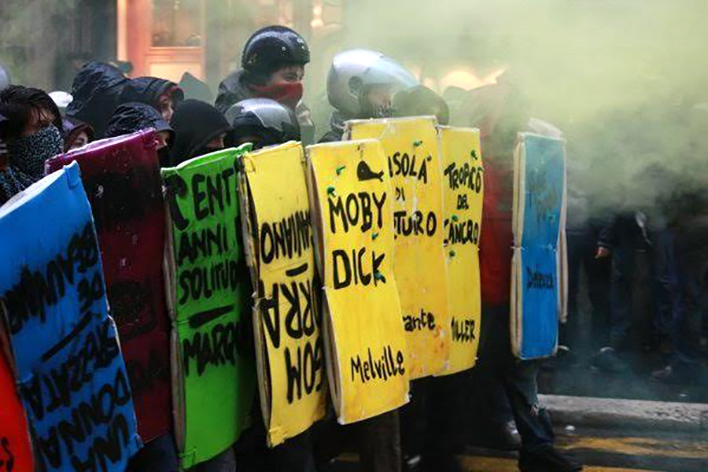 How to Cite
Messina, D. (2015). Contemporary Seicento: On the Dark Background of the Italian Historical Novel. Between, 5(10). https://doi.org/10.13125/2039-6597/1426
Section
Narratives and Imaginaries in Politics and History
Copyright Notice

You are free to copy, distribute and transmit the work, and to adapt the work. You must attribute the work in the manner specified by the author or licensor (but not in any way that suggests that they endorse you or your use of the work).