Focus and Scope
Between is the international, peer-reviewed and open access Journal of the Italian Association for the Theory and Comparative History of Literature - Compalit.
Between aims to provide an up-to-date observatory, a meeting place at which the methods and research that Italian comparative studies stimulate and participate in, can be brought to fruition. In this sense, the journal title alludes to the desired role of the trait d'union, linking Italy to other countries in Europe and in the world.
Our journal encourages comparison between models and proposals in constant evolution, between local and international perspectives, and between literary tools and those of other fields of knowledge for which literature may prove to be an unanticipated resource.
Between covers the following subjects: comparative literature; theory of literature; cultural studies; postcolonial studies; geocriticism; narratology; translation and adaptation studies; thematic criticism; genre criticism; literature and visual arts; literature and new media; literature and music; although other topics will be considered.
Section Policies
Essays
| | | |
| --- | --- | --- |
| Open Submissions | Indexed | Peer Reviewed |
In discussion: Ed. Niccolò Scaffai
The aim of this section  is to engage with a recent work of art – be it literary, cinematographic, or from the fine arts – that gives rise to theoretical and comparative reflection. Critics, writers, and artists will be invited to participate in the debate to take place on the chosen works.
Ed. by Niccolò Scaffai
Editors
| | | |
| --- | --- | --- |
| Open Submissions | Indexed | Peer Reviewed |
Rereading: Ed. Clotilde Bertoni
This section aims at rediscovering various kinds of comparative studies: scientific essays, newspaper articles, reviews, interviews. Our purpose is to reconsider, and sometimes to rescue from oblivion, works either by scholars of the field, or by scholars of other fields, by writers, by journalists; concentrated both on genres or themes crossing different cultures, and on the condition or the meaning of our branch, and even on its recurring eclipses and crises. To compare and to interweave our glance with glances from the past often turns to be extremely useful: it throws light upon features and metamorphoses of a lot of problems; it spurs on reflection and at the same time it warns against its mistakes and imbalances.
Ed. by Clotilde Bertoni
Editors
| | | |
| --- | --- | --- |
| Open Submissions | Indexed | Peer Reviewed |
Conversation Pieces / Interviews: Ed. Massimo Fusillo
 Situated midway between orality and writing, the interview is certainly one of the trickiest genres, especially because of the complex relationship that established between the co-authors. Instead of aiming to discover presumed authorial "truth", in this section we will rather report on exchanges with writers, poets, artists, critics, theorists, and scholars, convinced as we are that this more "militant" aspect should also be part of a topical comparative literature journal.
Ed. by Massimo Fusillo Editors
| | | |
| --- | --- | --- |
| Open Submissions | Indexed | Peer Reviewed |
Web Journals: Ed. Marina Guglielmi
The 'Web Journals' section is dedicated to Open Access resources for online production in the humanistic and comparative fields. The section examines some of the most decisive issues in open access online publishing and showcases the most innovative and scientifically relevant Open Access academic journals.  
| | | |
| --- | --- | --- |
| Open Submissions | Indexed | Peer Reviewed |
Between the Texts/Reviews: Ed. Giulio Iacoli, Beatrice Seligardi, Claudia Cao
| | | |
| --- | --- | --- |
| Open Submissions | Indexed | Peer Reviewed |
Open Field: Ed. Clotilde Bertoni, Niccolò Scaffai
| | | |
| --- | --- | --- |
| Open Submissions | Indexed | Peer Reviewed |
Peer Review Process
Peer-review process 
The selection of referees for each manuscript is a responsibility of the guest editors and the editorial board. The selection depends on many factors, including the referee's experience, competence and his/her previous collaboration with Between.
Each submitted manuscript is firstly read by at least one of the guest editors who, upon considering it suitable for publication after a first screening, send it to at least two referees for a thorough assessment.
The method Between recurs to is that of the "double-blind" review, where the author does not know the name of its referees and the referees do not know the name of the author of the work that they are evaluating.
The aim is to provide authors with a clear and competent specialised opinion on the quality of the proposal submitted. When necessary, the review provides the author with guidelines for improving his/her essay. Both the guest editors and the editorial board are responsible for the final decision on the article's publication.
The peer-review process, and all the editorial workflow, is managed through the OJS platform.
Publication timetable
Between guarantees the author to respect the time schedule indicated below for the editorial process:
A reading by the guest editors, with notice of rejection or assignment to referees for peer-review (within 12 weeks from submission);
First round of peer-review (4 weeks from the assignment date);
Communication to the author of the referees' judgement (within 16 weeks from the submission deadline);
Time for possible or necessary change by the author (2 weeks from the referees' requests);
Definitive editorial decision (within 2 weeks from the submission of the amended version).
Publication Frequency
Between publishes two issues a year, in May and November.
Open Access Policy
This journal does not charge Article Processing Charges (APCs) and Article Submission Charges (ASC).
This journal provides immediate open access to its content on the principle that making research freely available to the public supports a greater global exchange of knowledge.
Between  is published under a Creative Commons Attribution Licence 3.0.
With the licence CC-BY, authors retain the copyright, allowing anyone to download, reuse, re-print, modify, distribute and/or copy their contribution. The work must be properly attributed to its author.
Between, having published these contributions, will have the right to publish them integrally or partially as reprints or as monographic issues, both in electronic version and in printed copies.
Publisher copyright policies & self-archiving /SHERPA/ROMEO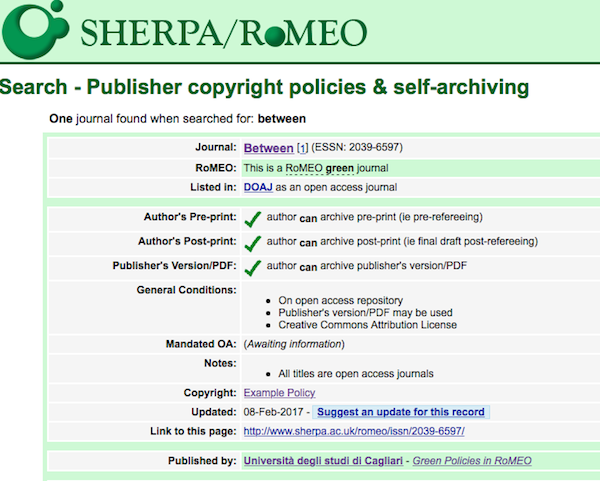 Archiving
Between utilizes the LOCKSS, system to create a distributed archiving system among participating libraries and permits those libraries to create permanent archives of the journal for purposes of preservation and restoration.

Publication ethics and malpractice statement
Between is a double-blind peer-reviewed journal. Between's ethic statements are based on the Code of Conduct and Best Practice Guidelines for Journal Editors developed by the COPE - Committee on Publication Ethics.
It is necessary that all the different parties involved in the publishing of each article (authors, editors-in-chief, editorial board, editors of single issues, reviewers) agree upon the following standards of ethical behavior.
GENERAL DUTIES AND RESPONSIBILITIES OF THE SCIENTIFIC AND EDITORIAL BOARD
Publication Decisions
Guest editors and journal editors are responsible for the peer-review process and both parties decide whether the submitted articles should be published or not. The final decision is communicated to the author within 16 weeks from the submission. In case of a contrast between two opinions, the editor may seek the advice of a third referee.
Fairness
The editors evaluate manuscripts for their intellectual content without regard to gender, sexual orientation, religious belief, ethnic origin, citizenship, political philosophy or academic affiliation of the authors.
Confidentiality
The editorial board involved in the process must not disclose any information about a submitted manuscript to anyone other than the corresponding author, reviewers, potential reviewers and other editorial advisors, as appropriate.
Between guards in its archives the results of the peer-review processes for each article (published or not).
Disclosure Process and Conflict of Interest
The editorial board commits not to use unpublished materials from submitted articles without the express written consent of the author.
Between recurs to the same peer-review process for contributions submitted by members of the editorial board.
Quality
The editorial board verifies every six months the review process in order to improve its results.
GENERAL DUTIES AND RESPONSIBILITIES OF REVIWERS
Contribution to editorial decisions
The double-blind peer-review process assists both the editors in their decisions and the authors in improving their articles.
Promptness
Any selected referee who feels unqualified to review the article for which his/her contribution is requested or unable to submit his/her review within the 30 days schedule should immediately notify the editors.
Confidentiality
Any manuscripts must be treated as confidential material. They must not be shown to or discussed with others unless previously authorized by the editors.
Standards of Objectivity
Reviews of submitted manuscripts are to be objective. The reviewers must express their opinions, exclusively about the article, with a clear argumentation through a standard form provided to them by editors.
Disclosure Process and Conflict of Interest
Information and indications obtained during the peer-review process must be considered as confidential material and they are not to be used for personal purposes. Reviewers must not accept any manuscript for which a potential conflict of interest exists.
If the reviewer asks for changes as a condition to publish a particular article, and the editors consider them appropriate, he/she will have the opportunity verify that the author of the reviewed article has adopted them before giving the final approval.
GENERAL DUTIES AND RESPONSIBILITIES OF AUTHORS
Originality and Plagiarism
Authors have to submit only original and unpublished research. They need to provide for their articles correct indications of all bibliographic sources and/or any other accessed material.
Multiple, Redundant or Concurrent Publications
An author should not submit manuscripts already published or under review process in another journal. Submitting the same manuscript simultaneously to more than one journal constitutes unethical publishing behavior, thus it is unacceptable.
Between keeps the right to republish texts previously published elsewhere, providing a clear reference to the original publication. Articles published in Between may be republished on other websites and blogs, with the previous approval of the editorial board.
Acknowledgement of Sources
Proper acknowledgment of the research and work of others must always be given. Authors should cite publications that have been influential in determining the nature of the submitted articles.
Authorship
Authorship must be limited to those who have made a significant contribution to the conception, design, execution and interpretation of the submitted article. All those who have made significant contributions should be listed as co-authors. Those who have substantially participated in the research project should be acknowledged or listed as contributors.
In case of article written by different authors, the submitting author must ensure that all other co-authors are included and acknowledged, and that all co-authors have seen and approved the final version of the paper and have agreed to its submission to the journal for its publication.
Disclosure Process and Conflict of Interest
All authors should disclose in their manuscript any financial or other substantive conflict of interest that might be construed to influence the results or interpretation of their manuscript.
Errors in published works
When an author discovers an error or inaccuracy in his/her own published article, he/she has to notify the journal editors or the editorial board promptly and cooperate with them in order to correct it.
PENALTIES FOR VIOLATIONS OF THE PUBLICATION ETHICS
If a member of the scientific board, a reviewer or an author violate one of principles mentioned before, his/her contribution to Between will no longer be accepted.
If an article does not comply with these ethic statements, it will be expunged and replaced by a note explaining that the article previously published was removed as it did not respect the journal's publication ethics.
Legal deposit
Between is experimenting the National legal deposition and long-term digital preservation service. Within the project the persistent identifier NBN (national bibliographic number) is assigned to each article.

Indexing
Between is indexed by the following abstracting and indexing services:
Articles and submissions processing charges (APC)
This journal does not charge Article Processing Charges (APC) and Article Submission Charges (ASC).